In the "Kingdom in the Sky" of Lesotho, communities hope that the introduction of community models of care can help them access all-too-rare healthcare.
Perched on the side of a mountain and overlooking a magnificent valley is the MSF supported Fatima clinic. Here, deep in mountainous Lesotho, I'm chatting to Motseko Maknoae.
"It has taken me two days walking to get here, I stopped with relatives overnight. I make the trip at least once a month."
She's much chirpier than I would be, especially considering she is 74-years-old and suffering from high blood pressure.
This, I'm told, is normal. It's also normal for patients to be in ill health, pregnant, or making a long journey just to collect drugs. I'm 32 and in good health, so I probably should stop complaining about my bottom still aching from the two-hour rickety car journey that brought me here.
Travel on foot to reach clinic
The 'Kingdom in the Sky', as Lesotho is known, is remote, rural and filled with mountains jutting up all around. Its 1.8 million people are spread thinly across the country and the roads snaking along the steep slopes are few and far between.
Healthcare is so hard to reach that people don't travel unless they are really ill. This adds to the challenge of responding to the HIV pandemic which strikes one in five adults in need of daily, lifelong treatment to remain healthy.
The Fatima clinic alone receives 50 patients a day, most of whom travel at least two hours on foot, many a lot more.
Stigma around ARV treatment
I meet with Libuseng Marekimane, MSF patient support Coordinator, who is helping HIV+ patients set up Community Antiretroviral treatment Groups, or CAGs, where members take turn to hike to the clinic and pick up the drugs for the whole group while having their health checked by a clinician.
It is hoped that as this will provide a way for patients to get their antiretroviral treatment (ARV) more easily, it can help increase lifelong adherence to treatment. Missing just one month can be disastrous, leading to a spike of the virus' strength and/or building up resistance to treatment.
In the battle to reduce the 63 percent of deaths attributable to HIV in Lesotho and to reduce stigma around the disease, this small initiative could prove a masterstroke.
Here, in Fatima, there is certainly an appetite for CAGs; in one morning I met plenty of HIV patients keen to get involved. Mamatseliso Supu tells me: "I left home this morning at six am, it took me four hours walking to get here and I do it twice a month," she says.
For the individual patient, CAGs means a huge change in daily life: not only her trips to the clinic are reduced, she also gets support from group members who share the same problem of living with HIV.
"There is a stigma attached to HIV, especially with the youth. I think there are lots of people on ARVs who don't want the community to know," Mamatseliso adds. If neighbours notice that someone goes to the clinic once a month, they'll probably come to the inevitable conclusion: HIV. Not so much if the trip is only taken twice a year.
I talk to Mamatseliso for some time and she makes it clear that these groups can make all the difference, not just to her, but to whole communities.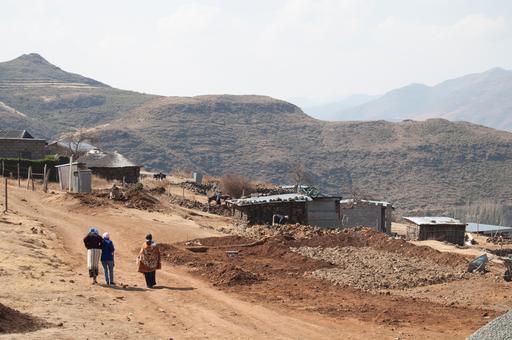 Adapting care to patients' needs
In Lesotho clinics are simply too far from where people live. But considering the resources available in the country it is simply not possible to build more of them everywhere.
That's why MSF's proposed CAG model can be life-changing for the HIV positive people in Lesotho: the strategy shows that when designing the way health care is provided in challenging environment, there is only one factor that remains a constant: the fact that people need to access the service.
To ensure this crucial, central point, there is no other choice than take their reality into account and adapting care delivery to their needs, not forcing patients to adapt to it.
Needs of the local patients must come first
Everyone I talk to has walked for hours, some old and unable to stand, some carrying what appears to be their livelihood. Many carry at least one baby, like Matsietsi Mathabeng. She is holding her wide-eyed one-year-old daughter and won't let me get a word in edgeways.
"I walked here carrying my baby, I couldn't afford a taxi (about 40p). It took me two hours," she tells me.
"The need for services like this one is great, we need more across Lesotho as some people can't walk or afford a taxi, so when the weather's bad they get more ill as they wait."
I'm quite saddened by my final meeting with Matsietsi but then I remember that here, surrounded by genuinely humble and wonderful people, I am struck by how happy they are that this health post exists at all.
I'm convinced that these initiatives to get out in to the community, to educate and to alter perceptions, can have hugely positive effects if done nation-wide.
Yes, MSF is playing a large part, but nothing will improve unless the local patients buy in to it. After just one day here in Fatima, I can confirm that they really have. Now the ball is in the camp of health care professionals responding and embracing the demands of their patients.