The political crisis that sparked the violent conflict in 2013 has still not been resolved, leading to a disastrous health emergency
Since its independence from France in 1960, Central African Republic (CAR) has been subjected to numerous coups and a lack of stability.
Despite its considerable mineral deposits and natural resources, it remains one of the top 10 poorest countries in the world.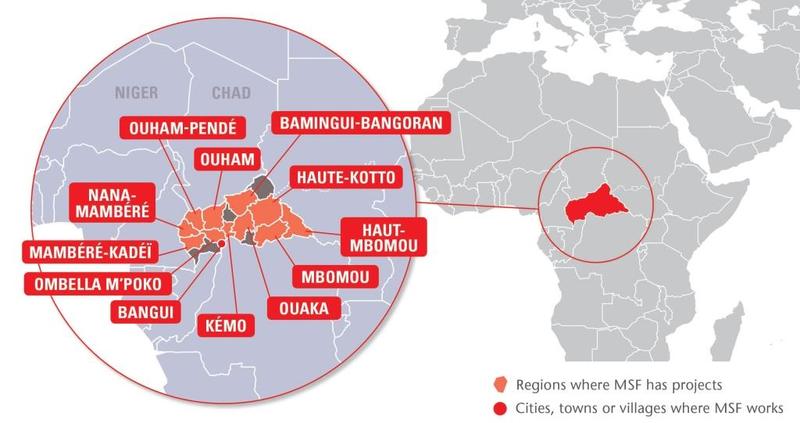 Years of unrest have displaced tens of thousands of Central Africans, with many crossing the border into Chad and is often effected by violence wrought in neighbouring countries like South Sudan.
On 4th December 2014, almost one year to the day after anti-Balaka rebels launched an attack on Bangui, the French Minister of Defence stated that the "job was done" and that the country was returning to "normal." He then announced the partial withdrawal from CAR of Sangaris, the French peacekeeping force.
Daily terror and fear remain a reality for people in CAR. Insecurity has also impacted MSF personnel and other aid workers. Over the past few months, they have been subjected to an increase in acts of violence of varying degrees.
MSF has been working in CAR since 1997. Since December 2013, we have doubled our medical assistance in CAR and are running additional projects for Central African refugees in neighbouring countries.
[[Country-Facts]]
MSF's work in CAR: 2015
There were hopes for peace in CAR following reconciliation talks in May, but sporadic violence persisted throughout the country and escalated in September in Bangui. This increased the need for urgent humanitarian assistance.
The political crisis that sparked the violent conflict in 2013 has still not been resolved and has exacerbated a pre-existing humanitarian and health emergency. An estimated 447,000 people are internally displaced, with tens of thousands living in overcrowded, improvised shelters such as schools and churches without adequate food, water, sanitation or healthcare.
Over 70 percent of health facilities have been damaged or destroyed and there is a shortage of trained healthcare workers.
MSF and other NGOs provide the majority of the health services, but their work is repeatedly obstructed by armed groups and organised crime. In 2015, mobile clinics, support activities and vaccination campaigns had to cease operating several times in the areas of Kabo, Bambari and Boguila, and MSF and other NGO facilities were robbed, attacked and looted.
[[nid:408]]
Responding to children's needs
Malaria remains the biggest killer in the country and the leading cause of death in children under five. Three rounds of preventive malaria treatment were administered in Ndele, Kabo and Batangafo between July and November, reaching around 14,000 children.
Only 13 percent of infants under one are receiving a full immunisation package. In July, MSF launched a year-long campaign across 13 prefectures, targeting 220,000 children under five for comprehensive vaccination against diphtheria, tetanus, whooping cough, polio, Haemophilus influenzae type B, hepatitis B, pneumococcus, yellow fever and measles.
Healthcare in Bangui
In the capital Bangui, violence is rife, and MSF focuses on emergency services in the city's general hospital. In 2015, the team carried out 4,100 surgical interventions and provided medical and psychological care to 675 victims of sexual violence.
During the year, MSF carried out up to 400 consultations a day at M'poko hospital in the airport displacement camp, and 15,400 emergency cases were treated and/or referred to facilities in Bangui.
At Castor health centre, MSF continued to treat victims of violence and provide free maternal and emergency healthcare around the clock. The team assisted over 7,400 births, admitted 10,500 people to hospital and offered comprehensive care to 275 victims of sexual violence.
Comprehensive care projects
MSF continued to provide comprehensive inpatient and outpatient care to residents and displaced people at its longstanding projects in Kabo (Ouham), Boguila (Ouham-Pendé) Paoua (Ouham-Pendé), Carnot (Mambéré-Kadéȉ) and Ndélé (Bamingui-Bangoran).
This included basic health consultations, emergency, maternity and children's services, and diagnosis and treatment for HIV and TB. Numerous health centres and/or satellite health posts were also supported through these projects. The maternity and surgery departments of Paoua hospital were handed over to the Ministry of Health in April.
Emergency response team
MSF's Equipe d'Urgence RCA (Eureca) responds to acute localised emergencies in the country. Between April and September, Eureca completed emergency health and nutrition interventions in Kouango and Vakaga, where they trained 80 Ministry of Health staff and donated drugs to five health posts.
The Eureca team also vaccinated 9,700 children against measles and pneumococcus in Gadzi in December and provided healthcare to people displaced in the immediate aftermath of the violence in Bangui in September.
Find out more in our 2015 International Activity Report
1,016,100
outpatient consultations in 2015
207 million AED
expenditure in 2015