We are shifting our focus in Colombia away from conflict-related projects to providing mental healthcare
Colombia is one of the most ethnically diverse countries in the world.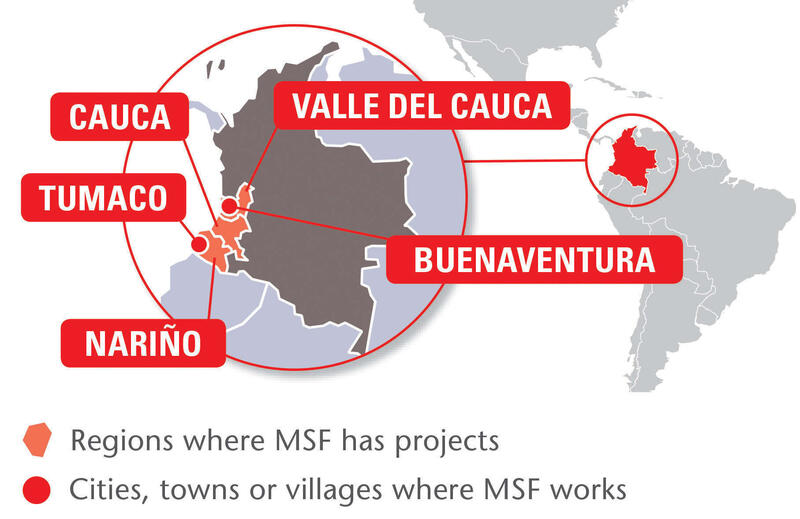 Situated in the northwest of South America, it is bordered by Panama, Venezuela, Brazil, Ecuador and Peru and is the fourth largest country in the region.
It has rich oil reserves and is a major producer of gold, silver, emeralds, platinum and coal.
Conflicts involving armed groups and drug cartels are still rife.
Médecins Sans Frontières/Doctors Without Borders (MSF) first worked in Colombia in 1985. Our work in the country focuses on providing care for victims of armed conflict and to those excluded from healthcare.
[[Country-Facts]]
MSF's work in Colombia: 2015
In 2015, MSF shifted its focus in Colombia away from conflict-related projects to providing mental healthcare.
As a result of peace talks, the conflict has decreased in intensity over the last year.
The mobile clinics and health posts that we were running in the rural areas of Cauca Pacífico were wound down and the clinics finally closed in December. Our mental health programme supporting victims of violence, including sexual violence, in Cauca Cordillera is set to close in mid-2016.
"My sons still ask me what happened to their father. I tell them you need to forgive to feel good. But they are angry and ask why they did that to their father and uncle. The older one was very sad and missed him a lot. The MSF psychologist has helped us overcome the pain and she has guided me a lot because there are times when you don´t know how to explain things to children. With her you can open up."
An emergency response team has been established to intervene when needed in Nariño, Norte de Santander and Uraba. The team responded to 39 emergencies during the year, most of them between April and June due to conflict when the ceasefire between FARC and the government broke down.
Throughout the year, MSF teams in Tumaco municipality in Nariño offered mental health support to over 1,500 people who had suffered violence, and offered comprehensive care (medical and mental health) to 240 victims of sexual violence.
In Buenaventura, where crime rates are very high, a centre offering free, around-the-clock telephone counselling for victims of violence, including sexual violence was set up in February. Since then, 1,099 people have been assisted.
Find out more in our 2015 International Activity Report
14,400
outpatient consultations in 2015
9.2 million AED
Expenditure in 2015