The Democratic Republic of Congo (DRC) has endured decades of multiple overlapping crises and severe limitations in medical capacity. 2018 was marked by further upsurges of extreme violence and frequent, far-reaching disease outbreaks.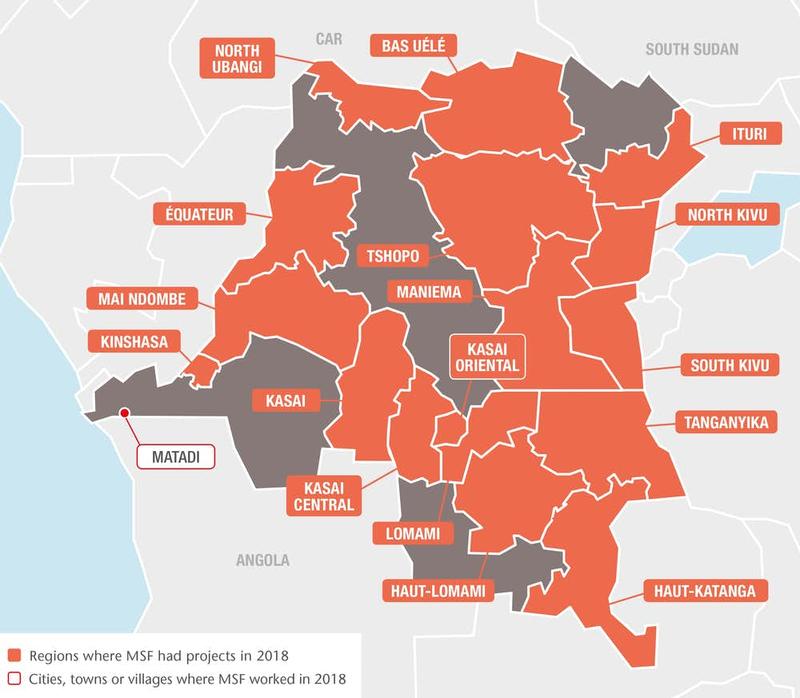 Médecins Sans Frontières (MSF) ran 54 medical projects in 17 of the Democratic Republic of Congo's 26 provinces in 2018. With services ranging from basic healthcare to nutrition, paediatrics, treatment for victims of sexual violence and care for people living with HIV/AIDS, we provide comprehensive medical assistance where it is needed most. We responded to nine measles outbreaks and two successive outbreaks of Ebola in 2018, including the country's largest ever, which was still ongoing at the end of the year.
[[Country-Facts]]
MSF's work in DRC: 2018
Assisting displaced and host communities
Since 2016, approximately 1.4 million people have been displaced by violence in Greater Kasai region. In 2018, our teams in the region supported referral hospitals in Kakenge, Kananga, Tshikapa and Tshikula, as well as 35 health centres in the surrounding areas, with nutritional, paediatric and maternal healthcare, surgery for violent trauma, treatment for victims of sexual violence, and referrals. In Kamonia health zone, southern Kasai province, we also provided medical assistance to Congolese people forced out of neighbouring Angola.
We conducted more than 80,000 medical consultations in Bunia city and in Djugu territory, Ituri province, where intercommunal clashes and fighting between armed groups caused further largescale displacement. We also built latrines and showers, responded to outbreaks of measles and cholera, and treated victims of sexual violence.
We continued to assist people displaced by violence in 2017 in Kalémie, Tanganyika province, providing relief items and water together with community-based healthcare and psychological support. We also set up new primary and secondary healthcare services for victims of violence and displacement in Salamabila, Maniema province, and Kalongwe, in South Kivu.
At the end of the year, we sent an emergency team to assist many thousands of people fleeing extreme violence in the region around Yumbi, in Mai-Ndombe province in the west of the country.
To assist refugees from the Central African Republic who had crossed into northern DRC, we supported hospitals and health centres in Gbadolite and Mobayi-Mbongo, North Ubangi province, and ran mobile clinics that also served the local community. In Bili, in the same province, we supported emergency, paediatric and neonatal services in the referral hospital and in 50 health centres and health posts with an integrated community approach.
Over to the east, along the border with South Sudan, we treated more than 48,000 refugees in the informal sites of Karagba and Ulendere.
South Kivu
MSF opened a project in Lulingu in August, supporting the general hospital and six peripheral health centres, with a particular focus on care for children and pregnant women. Malaria, gastrointestinal and respiratory tract infections were the main illnesses staff treated in 2015.
Services include paediatrics, emergency services and an operating theatre. In a similar project in Kalehe, Hauts-Plateaux, MSF supports Numbi reference health centre and three other centers in the area. Some 124,000 outpatient consultations and over 37,000 reproductive health consultations were carried out and around 35,700 children received routine vaccinations.
An increase in malaria in recent years has overwhelmed the MSF-supported Baraka hospital, where capacity has been exceeded by 300 percent.
A 125-bed facility was built for patients who are no longer critical but still need medical care. Several community-based sites helped thousands of children access treatment for malaria, pneumonia and diarrhoea.
Staff carried out 287,000 outpatient consultations and admitted nearly 17,000 patients for care. Teams at Kimbi hospital, associated health centres in Lulimba, Misisi and Lubondja, and community sites provided 149,500 outpatient consultations and treated 125,600 patients for malaria, 373 patients for TB and 311 patients for HIV.
A South Kivu emergency response team launched seven different interventions to tackle epidemics and address the needs of displaced people.
Comprehensive care in the Kivu provinces
In the Kivu provinces, in eastern DRC, which have been plagued by conflict for over 25 years, we maintain a number of long-term projects that ensure continuity of care while also launching emergency responses to violence-related trauma and displacement.
In North Kivu, our teams run comprehensive medical programmes in Lubero, Masisi, Mweso, Rutshuru and Walikale, supporting the main reference hospitals and peripheral health centres to deliver both basic and secondary care. Services include emergency and intensive care, surgery, nutrition and maternal and paediatric healthcare, community-based healthcare, and outreach activities such as mass vaccination in hard-to-reach areas.
In South Kivu, we offer treatment for malaria, HIV, tuberculosis, malnutrition, acute respiratory infections and diarrhoeal diseases to refugees, displaced people and local communities. We had teams working in more than a dozen facilities across the province, including a new health centre in Kusisa. Constructed in 2018, it offers maternity, paediatric and emergency wards and an operating theatre.
Treating victims of sexual violence
In Kananga, in Kasai Central province, we treated between 200 and 250 victims of sexual violence each month in 2018, mostly women but also men and young children.
We also set up psychological and medical services for victims of sexual violence in a hospital and four health centres in Salamabila, in Maniema province, and increased services in another six health centres around Mambasa, in Ituri province, piloting mobile apps to help improve the provision of treatment for 5,500 patients suffering from sexually transmitted infections and victims of sexual violence.
We also run a clinic for victims of sexual violence in Walikale, North Kivu, where we provide medical and mental healthcare and family planning services.
Find out more in our 2018 International Activity Report
1,826,300
OUTPATIENT CONSULTATIONS
776,600
PEOPLE TREATED FOR MALARIA
102,600
PEOPLE ADMITTED TO HOSPITAL