Nepal is recovering from two major earthquakes that rocked the country in 2015
Two earthquakes hit Nepal on 25 April and 12 May 2015, killing an estimated 8,500 people and injuring another 20,000.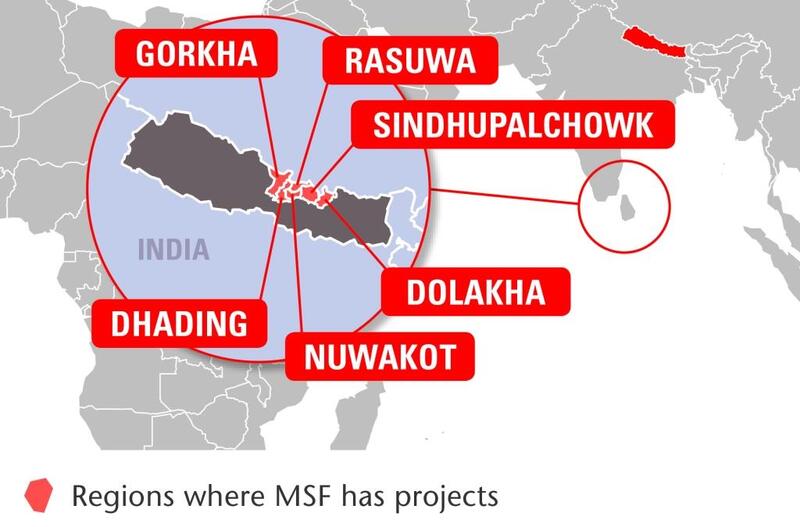 After the first 7.8 magnitude earthquake struck, Médecins Sans Frontières/Doctors Without Borders (MSF) teams quickly arrived in the country and focused on reaching the people living in remote mountainous areas.
The earthquake's epicentre was in Gorkha district, 80 kilometres west of Kathmandu.
Prior to the earthquakes, MSF had worked in Nepal between 2002 and 2009.
Teams provided healthcare to people affected by the conflict between government forces and the Communist Party of Nepal which lasted from 1996 until 2006, and by the resurgence of violence that accompanied a chaotic peace process.
We worked where help was most needed, including in basic healthcare, reproductive healthcare and water and sanitation provision.
[[Country-Facts]]
MSF's work in Nepal: 2015
MSF ran a system of helicopter clinics to provide healthcare and hospital referrals for emergency cases. Regular clinics were conducted in villages spread across Gorkha, Dhading, Nuwakot, Rasuwa, Sindhupalchowk and Dolakha districts.
Their focus, in accordance with the needs expressed by the communities, was children under five, pregnant women and mental healthcare.
Inflatable hospitals and tent clinics
In Arughat, Gorkha district, MSF set up a 20-bed inflatable hospital with an operating theatre, and emergency, maternity and resuscitation rooms. This replaced the local healthcare centre that had been destroyed by the earthquake until the Ministry of Health was able to open a semi-permanent structure at the end of June.
MSF also set up a temporary tented clinic in Chhapchet, Dhading district, an area that was severely affected. Staff provided basic healthcare and carried out minor surgical interventions, for example on patients whose wounds had become infected.
[[Article-CTA]]
MSF teams were already operational by the time the second earthquake struck on 12 May, and were able to start providing healthcare in the hours that followed.
Shelter and sanitation
With many remote villages completely flattened, and the monsoon season fast approaching, shelter distribution and sanitation work were the priorities.
MSF transported around 6,000 family-sized tents – as well as almost 13,000 iron sheets and 3,000 reconstruction kits for the building of more permanent dwellings – into the mountains by both land and air.
By the time the monsoon arrived, almost 10,000 households in Dhading, Nuwakot, Dolakha, Gorkha, and elsewhere in the Budhy Gandaki valley had some form of shelter.
Following this immediate emergency phase, MSF reduced its activities in July 2015, but continued working through two projects in Sangha and Charikot. In Sangha, MSF worked in the Spinal Injury Rehabilitation Center a 50-bed facility situated east of Kathmandu.
Another MSF team worked with Ministry of Health staff at the primary healthcare centre in Charikot, a village in Dolakha district (the epicentre of the second earthquake), in the emergency room, inpatient department and operating theatre, and supporting the laboratory and X-ray services. All these activities had been handed over to a public–private partnership by the end of 2015.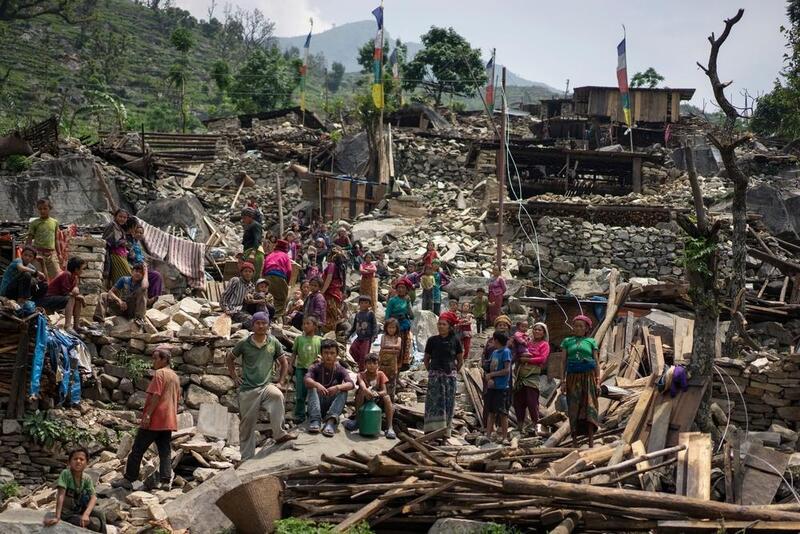 Three colleagues lost in a helicopter crash
During a clinic on 2 June, three of our colleagues and their pilot lost their lives in a helicopter crash. Sandeep Mahat, Jessica Wilford and Sher Bahadur Karki (Raj), and their pilot Subek Shrestha, were flying back to Kathmandu after delivering assistance to villages in Sindhupalchowk district when the accident occurred. It is with great sadness that we bid them farewell.
FInd out more in our 2015 International Activity Report
2,100
outpatient consultations in 2015
14,800
relief kits distributed in 2015
39m AED
expenditure in 2015