Serbia is at the heart of the overland route that refugees are currently taking through Europe
Serbia has connected East with West for centuries – a land in which civilisations, cultures, faiths, climates and landscapes meet and mingle.
The landlocked country is at the centre of the Balkan Peninsula, in southeastern Europe, and has a population of more than 7.2 million people.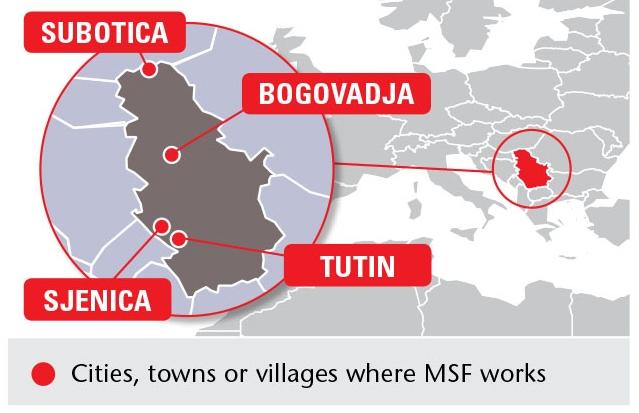 Médecins Sans Frontiéres/Doctors Without Borders (MSF) has worked sporadically in Serbia since 1991, when the country was part of the former Yugoslavia.
We provided medical and mental healthcare for people directly affected by the conflict in the Balkans, as well as its aftereffects.
Today, we provide medical care to people travelling through Serbia in their attempts to reach Europe and a better life.
Afghan man, 27-years-old
"I had to cross many countries to come here: first Iran, then Turkey and finally Bulgaria. The border between Iran and Afghanistan was the most dangerous… I was also detained for two and a half months in Bulgaria.
"I have been here [Subotica] for four days, and every day I try to cross the border [to Hungary] but so far I have not succeeded. Each time I fail I have no choice but to come back here, there is nowhere else to go. It is very cold and I can barely sleep at night."
MSF's work in Serbia: 2015
MSF deployed mobile teams in Serbia, so they could assist people as they moved across the country.
At the border with FYROM, MSF worked in Miratovac and Preševo, where up to 4,000 people waited to be registered without shelter in poor weather conditions, MSF set up a clinic and provided basic and mental healthcare near the registration centre as well as at a transit camp near the border.
Teams distributed relief items such as washing kits, food, tents, blankets and raincoats, while medical staff treated people suffering from common colds, respiratory tract infections and hypothermia.
[[Article-CTA]]
We also supported rubbish collection, set up toilets and offered transportation to disabled people and vulnerable families. In November, a team rehabilitated a 1.5-kilometre road, enabling thousands of people to proceed in greater safety, and set up toilets and six heated tents providing shelter for up to 270 people. Between June and December, the team completed 9,184 medical consultations.
Belgrade
In Belgrade, care was provided to refugees in two parks close to the train and bus stations. The team carried out 3,950 medical consultations between April and September.
Some nights, up to 3,000 people waited in line to be registered or they were stranded at the border with Croatia and had to sleep outside. Mobile clinics assisted people at the crossing points, for example at Sid, where teams inside the transit centre offered consultations as they waited for the train.
Wealso set up eight large heated tents providing shelter for more than 2,000 people at the new transit points designated by the authorities. Between mid-September and early December, over 15,200 medical consultations were carried out.
Find out more in our 2015 International Activity Report.