IKEA is the world's largest Swedish home furnishing retailer, where millions of people go to turn a house into a home for their family. 

In some parts of the world, many people struggle trying to provide basic healthcare for their families.  
The room they need the most? A hospital one.

Médecins Sans Frontières/Doctors without Borders (MSF) is an organization that relies on donations to provide free health services around the world. To show how giving, even if just a little, can have a huge impact on those in need, DDB Dubai along with MSF decided to create a new campaign with Al-Futtaim IKEA: The Giving Room.
If you walk through Al-Futtaim IKEA's store in Dubai Festival City this month, you won't be surprised to pass by a bedroom, lounge, study room…but you will be surprised to see a hospital room. Each item inside the hospital room is tagged with a QR code and information from MSF about how that specific healthcare item is crucial to help treat people. 

From something as advanced as X-Ray technology and microbiology testing to simply a stethoscope, once scanned, you can find yourself on a yallagive.com page where you can donate a suggested amount or your own to the cause.
"It is amazing to see how each one of us can make a difference, even if the support is  minimal, for so many people that are in need of help in the region and the whole world. Doctors Without Borders' medical teams on the ground are privileged to be given the opportunity to offer medical and humanitarian services thanks to your generosity." Vasilis Stravaridis, the Executive Director of MSF UAE comments on the initiative. 

Médecins Sans Frontières/ Doctors Without Borders (MSF) is an international, independent medical humanitarian organization. It has almost 30 years of institutional presence in the UAE through its regional office in Dubai. Since the creation of MSF 50 years ago, its goal has been to alleviate people's suffering and to provide medical care to those who need it most. Last year, the organisation provided 1,264,500 emergency room admissions, serving the needs of more than one million patients worldwide. 
Firas Medrows, Executive Creative Director at DDB Dubai said, "At DDB, we have a philosophy called 'emotion at scale'. Our work is influenced by the human truth that we are guided by things that connect with our heart. The thought behind the campaign is based on this belief. The campaign also stems from our positioning of 'Unexpected Works'. It means that the best idea is the one you never saw coming. The Giving Room initiative is a dramatic representation of the lack of medical equipment in conflict zones in a place where people least expect to see it. We believe this will elicit a more emotional response from visitors." 

Commenting on the partnership Carla Klumpenaar, General Manager, Marketing, Communication, HF and Interior Design in UAE, Qatar, Egypt and Oman said, ''At Al-Futtaim IKEA, the welfare of the community is always a priority. By partnering with MSF, we are giving our customers a chance to join our vision of creating a better life for more of the many people by donating for those in need. The Giving Room will allow customers to experience and understand the lack of medical resources in conflict zones and turn awareness into donations.''

If you're ready to make life-changing choices for yourself, and others, then head to The Giving Room from November 22 to December 23 at Al-Futtaim IKEA Festival City store and share your experience at #MSFIKEA #TheGivingRoom.

About IKEA UAE
IKEA UAE, a member of Al-Futtaim group of companies, offers an extensive range of home furnishing products & accessories of good design, value and functionality. In the UAE for 29 years, the IKEA stores in Dubai Festival City, Festival Plaza in Jebel Ali and Yas Island, Abu Dhabi closely follow the popular self-serve and self-assembly concept which was conceived in Sweden over half a century ago. IKEA serves a wide choice of refreshments at the IKEA Restaurant and Café. The Customer Ordering and Collection Point in Al Ain offers residents easy access to well-designed products at a great price. 
Customers can also join the IKEA FAMILY loyalty programme to avail of great offers and extended services on every visit to the store. Toll free number for the world-famous brand is 800 4532 (800 IKEA). For more information visit www.IKEA.ae, www.facebook.com/IKEAUAE or @IKEAUAE on Twitter.
About Al-Futtaim Group 
Established in the 1930s as a trading business, Al-Futtaim today is one of the most diversified and progressive, privately held regional businesses headquartered in Dubai, United Arab Emirates.
Structured into five operating divisions; automotive, financial services, real estate, retail and health; employing more than 33,000 employees across more than 20 countries in the Middle East, Asia and Africa, we partner with over 200 of the world's most admired and innovative brands. 

Al-Futtaim Group's entrepreneurship and relentless customer focus enables the organisation to continue to grow and expand; responding to the changing needs of our customers within the societies in which we operate.
By upholding our values of respect, excellence, collaboration, integrity; Al-Futtaim Group continues to enrich the lives and aspirations of our customers each and every day. For more information visit: www.alfuttaim.com 
 
More Events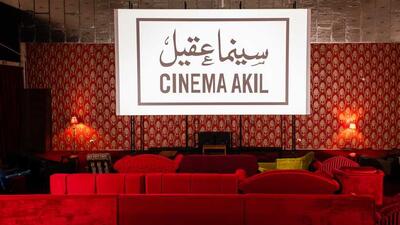 Past Event
Watch the recording
Cinema Akil in Dubai