Recent attacks on Zemio, in southeast Central African Republic, have closed down the hospital and forced the city's population, including MSF staff members, to flee. MSF medical coordinator Wil van Roekel describes the ramifications of the violence, including on some 1,600 HIV patients who need daily medication to survive.
What is the situation in Zemio now?
"For the past few weeks, Zemio has been a ghost town. Almost everybody has left, afraid of more attacks and of the town turning into a battlefield between different armed groups. Driving through town, you see burned down houses and looted shops.
People in Zemio are unused to this level of violence and of being forced to flee without time to make a plan. The attacks took them by surprise. When the armed groups arrived, they ran in all directions, leaving cooking pots still on stoves and clothes all over the place. Families were split up and people lost contact with their loved ones.
The risk of getting shot in the streets was so high that some climbed from tree to tree in search of their relatives. One of our local staff members had to wait in the hospital for days before being able to reach the camp for displaced people, just 4 km away, where his family was sheltering."
How has the violence affected MSF's work in Zemio?
"On 11 July, after a baby was shot inside Zemio hospital in her mother's arms, most of the MSF team was evacuated. But many of our local staff – men and women from Zemio – kept on working for as long as they could.
On 18 August, armed men attacked the hospital again and opened fire on the 7,000 displaced people sheltering there, killing 11. After that, almost all the population of Zemio – including members of our staff and their families – fled.
Around 10,000 people fled to the bush surrounding the town or to nearby places. Another 10,000 people crossed over the border to Democratic Republic of Congo (DRC) and are staying in a makeshift camp there. The camp is in a remote area, two days' walk from the nearest village. Pregnant women have to give birth in the bush. There is minimum shelter and few mosquito nets, increasing the already high risk of malaria. There is no clean drinking water or sanitation, and our local staff team there reports an increase in cases of diarrhoea.
In the past month, we have managed to make a number of short visits to Zemio, when we evacuated seven patients by plane. These were the most severe cases, mostly with gunshot wounds, including the son of one MSF staff member who had surgery in the capital, Bangui, and has now recovered."
Who has the violence affected most?
"Women and children are definitely the most vulnerable. One girl of 13 arrived at our hospital with a gunshot wound to her chest. She had been shot 10 days earlier on the other side of town. To reach the hospital supported by MSF, she and her mother had to bypass the town, crossing into DRC and then back into CAR. I was amazed that she had made it.
We were able to help her, but there are thousands of people like her in the same situation, now completely abandoned and with no access to basic medical care."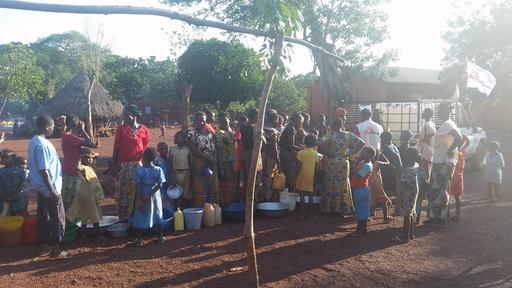 How has the violence affected patients in MSF's HIV programme in Zemio?
"Our HIV programme was community-based, with patients divided into groups, some living as far as 250 km away. One person from each group would visit our clinic and collect enough antiretroviral medications for his or her group for the next three months. We covered around 1,600 patients.
After the first attack, our local staff tried to continue the programme, but with armed men in the hospital's vicinity, it became too risky for patients to reach the clinic and collect their medications.
Shortly after the first attack, our storeroom, containing six months' worth of medication, was looted. Some patients also told us that the supplies they kept at home had been burned. Since the latest attacks, when most of the population fled, we have lost all access to these patients and have had to suspend the programme."
What effect will the suspension of MSF's HIV programme have on our patients?
"Our patients need to start treatment again as soon as possible, but of course this is unrealistic in the present situation. Most likely, they are surviving now on minimal food and with no access to basic medical care, so their health condition will worsen.
Without antiretroviral medication they are at high risk of getting infections related to HIV, such as tuberculosis (TB), which is also dangerous for people who are not HIV-positive. The suspension of the programme will definitely increase the number of infections in the community."
Can MSF still work in Zemio?
"As MSF, we are used to working in conflict zones and under very difficult circumstances, but right now the opportunity to provide humanitarian aid in Zemio is almost zero. The population has dropped from 21,000 to under 1,000. The only people left are those who couldn't run away – the elderly and the disabled, and the people trapped in the Muslim quarter, surrounded by various armed factions fighting each other.
The armed groups in Zemio no longer respect humanitarian workers and they care nothing for MSF's values of neutrality and impartiality. There are a large number of people at risk – some of them wounded and all of them struggling – who we are unable to reach and take care of.
Zemio hospital is deserted, because it is no longer considered a safe place to be. But MSF staff are continuing to work – they are going into the bush, carrying medication in backpacks, and trying to support the people hiding there. We are also planning to provide healthcare across the border, in DRC. These people must not be abandoned."
MSF has been supporting Zemio hospital since 2010, with a recent focus on the HIV programme and outreach activities, including support to two health posts and two malaria points. MSF provides free quality medical care to communities throughout Central African Republic, regardless of their race, ethnicity, religion or political affiliation.