In a small village in Democratic Republic of Congo (DRC), 18-year-old Elisée looks at her family's destroyed crops.
For the past 20 years, brutal violence in Lulingu (South Kivu province) has forced villagers to periodically hide in jungles, leaving their fields, homes and communities behind.
"We often have to flee clashes between the Raïa Mutomboki [rival armed groups who control part of the land] and the regular army," says Elisée. "This is why we can't tend our fields.
"When we're able to return, either the crops have spoiled, or they've destroyed or burnt it all."
As one group advances, the other retreats; as one retreats, the other advances.
The fighting swings back and forth like a pendulum, displacing local people from their homes and inflicting losses on them time and time again.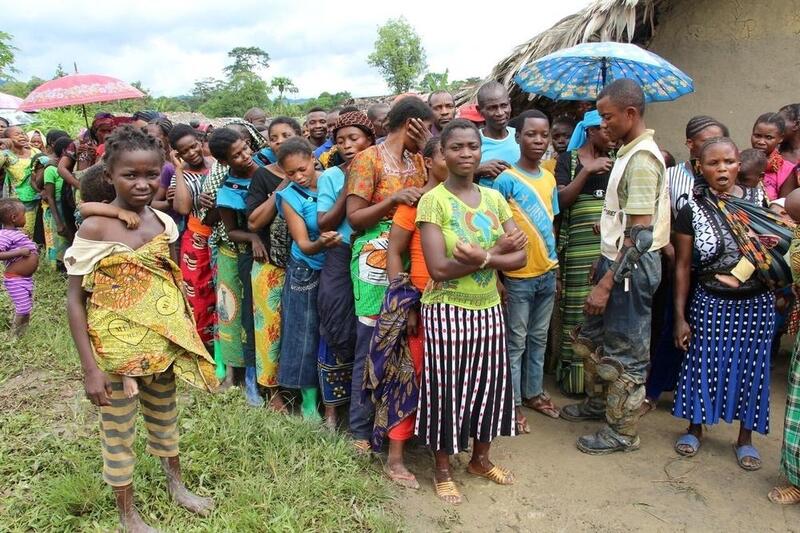 Bikers without borders
For people who make their living from farming or livestock, the constant need to flee and return means just subsisting is a struggle.
They must rebuild and replant, having to restart from scratch with unsustainable frequency.
Without reliable sources of food people are at high risk of malnutrition. Without access to healthcare, they face contracting illnesses. With their lives disrupted, and no schools, jobs or self-sustaining communities, people face economic challenges and mental health problems.
Médecins Sans Frontières/Doctors Without Borders (MSF) is helping people in the remote Lulingu area through an organised distribution of aid - with the help of 30 motorcycles.
Because Elisée's vilage and the surrounding locales are inaccessible by road, we were unable to use four-wheel drive.
Instead, our teams took to two wheels. Their fleet of motorcycles transported life-saving aid across eight villages, over the course of 12 days.
They provided 519 families with essentials, including: mosquito nets, jerry cans, kitchen utensils, soap, blankets, mats, clothing, fabric, and farming tools.
Jungle medicine
Being regularly forced from home by violence makes normal life impossible.
Displaced people have nothing they can rely on: no regular meals, no schools for their children, no jobs, nowhere to sleep, no access to medical services.
This makes them extremely vulnerable and at a high risk of contracting illnesses.
"Before, when you fell ill, you expected never to be cured," says Kaburiwazi, a 30-year-old miner from Ngola village.
That is starting to change. We are now renovating the community health centre in the municipality of Makala (a district in DRC's capital, Kinshasa), where free medical services are on offer.
Elsewhere in South Kivu, there are similar needs. In October, our teams distributed first aid kits and provided psychological support to some 2,700 people displaced in the Luntukulu area.
Additionally, a team is ready in Luntukulu health centre to treat people for malnutrition. An alarm was raised of an impending nutrition crisis.
The lead image in this story was taken in Monga, DRC, where we also use motorbikes to access hard to reach communities.
find out more about our work in democratic republic of congo