This year, Abu Dhabi- based businessman and philanthropist HE Eissa Abdul Jalil Al Fahim- the General Secretary of Abdul Jalil Al Fahim & Family charitable organization donated a significant amount to Doctors Without Borders/Médecins Sans Frontières (MSF), which has allowed us to continue our work in responding to medical needs around the world.

Established in 1958 by the late Abdul Jalil Al Fahim, The AlFahim Group is among the UAE's most successful family businesses. Having inherited his affinity towards both business and charity from his father- especially after following him on a relief mission to Afghanistan in his youth- The Al Fahim Group officially launched a permanent charitable fund- The Abdul Jalil Al Fahim & Family Endowment that became a charitable organization in 2019.
Mario Stephan, Executive Director for MSF UAE Regional Office said: "The partnership that links ours organization to Al Fahim charitable organization is a unique one we forged throughout the years, and we are thankful to HE Eissa Al Fahim for his unwavering support. We look forward to further strengthening and sustaining our relation"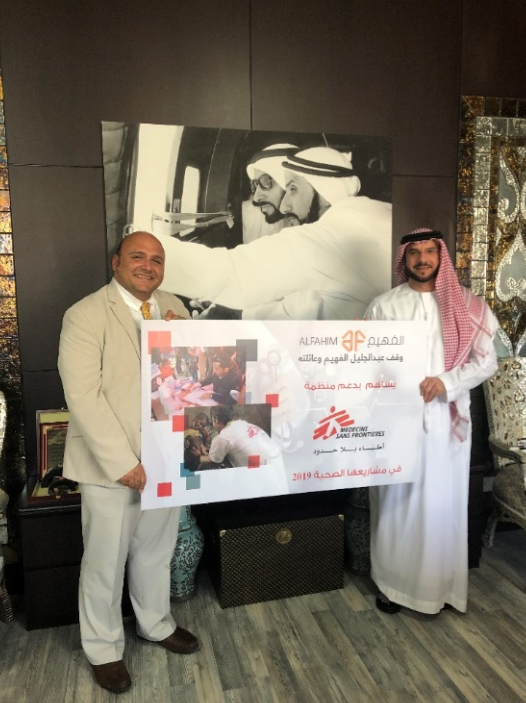 "There are many who are deprived of a lot of things; and wealth is not diminished by giving in charity. Giving in charity can relieve people's suffering, provide treatment, and cheer up the underprivileged." Says HE Eissa Al Fahim.
HE Eissa Abdul Jalil Al Fahim has been a regular supporter of MSF since 2002, due to his trust in the neutrality, impartiality and transparency of our movement, as well as his shared commitment to patient care. In 2019- to celebrate almost 20 years of continual giving- MSF formally expressed its appreciation to His Excellency.