Written by Anna Pantelia, MSF's field communications manager from Athens, Greece.
It took me less than four years as an aid worker in Europe to understand that humanitarian assistance is a drop in the ocean if there is no political will for change.
Back in 2015, I was a postgraduate student from Greece and aspiring photojournalist. I was ready to offer my skills to try and give voice to those whose voices had been forcibly silenced or ignored; to those who had experienced and fled violence, war and terrorism.
What I wasn't prepared for was the extent of the humanitarian crisis that had just arrived at Europe's doorstep, in my own country.
Desperation
For the past five years, I have worked in many refugee camps in Greece, but the situation on the Greek islands at the moment is out of control.
More than 42,000 people are held in abject conditions for months on end while they wait for their asylum claim to be processed. Those conditions are now well known, thanks to the thousands of reports and images by visiting media and NGOs in Moria camp.
But what cannot be easily described in words or photos is the level of desperation of those trapped in Moria – people who are living in survival mode, often without electricity and, more recently, without even enough water to drink.
The EU-Turkey deal
The unimaginable suffering endured by thousands of people in Greece is simply a political choice.
This choice was taken in 2016 by the 28 member states of the European Union when they signed the so-called "EU-Turkey deal".
Since then, the Greek islands have become open-air prisons for thousands of people who are being punished for the "crime" of seeking safety.
Mothers in Moria
A few weeks ago, I spoke with mothers whose children suffer from complex and chronic diseases like diabetes, brain damage and heart disease, and who have no option but to live in Moria camp on the island of Lesbos.
The first mother I spoke to was Samseyeh, whose six-year-old daughter, Zahra, has autism.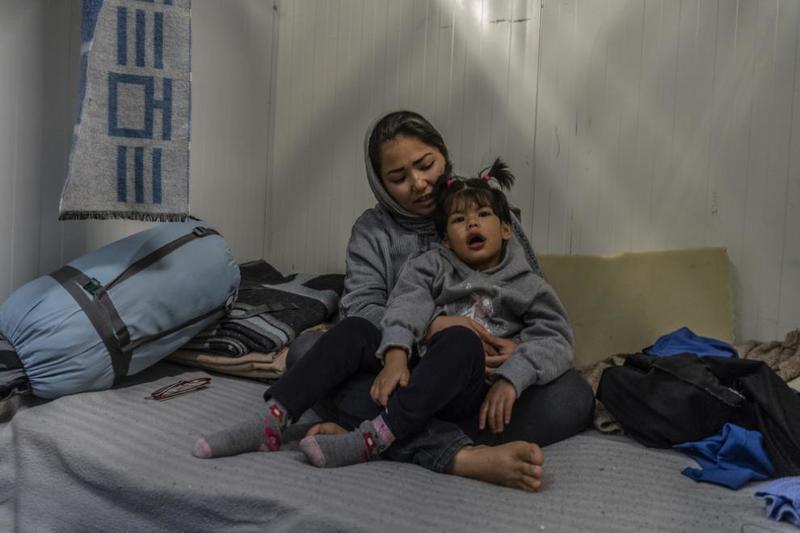 Samseyeh is just 27 and is clearly desperate for help. Because of her condition, Zahra cannot stay calm: she's constantly moving around, shouting and banging herself on the metal dividers that surround the three square metres of living space provided to this family of three.
"My neighbours are angry with me because Zahra makes a lot of noise, but we can't control her – this behaviour is because of the disorder," says Samseyeh, tears streaming down her face.
"Often at night she has seizures and we have no one there to help us. The only thing I ask for is a place where Zahra has enough space to play like other kids and a specialist doctor to see her."
Restrictions on healthcare
The island of Lesbos has no medical specialists in autism; the only way that Zahra's condition will improve is by finding a specialist doctor and appropriate accommodation in a big hospital on the mainland.
Not only has the Greek government neglected Zahra and at least 140 other children on Lesbos with chronic and complex medical conditions, but it has also intentionally blocked their access to even basic healthcare, vaccinations and medicines.
Gul* is another mother struggling to protect her child, three-year-old Mohammed, who suffers from a brain disorder.
"The doctor told me that I have to keep him clean all the time, but we live in a small part of a tent and when it rains there's mud everywhere," Gul tells me.
"We have no electricity and no heating so I bathe Mohammed just once every two weeks."
"Moria not good"
Things are no better for Raido*, who was moved into a nearby apartment after three months living in Moria with her son Abdul, who is totally paralysed, and her three other children.
Raido's voice is clear and strong but she's struggling to hold back her tears.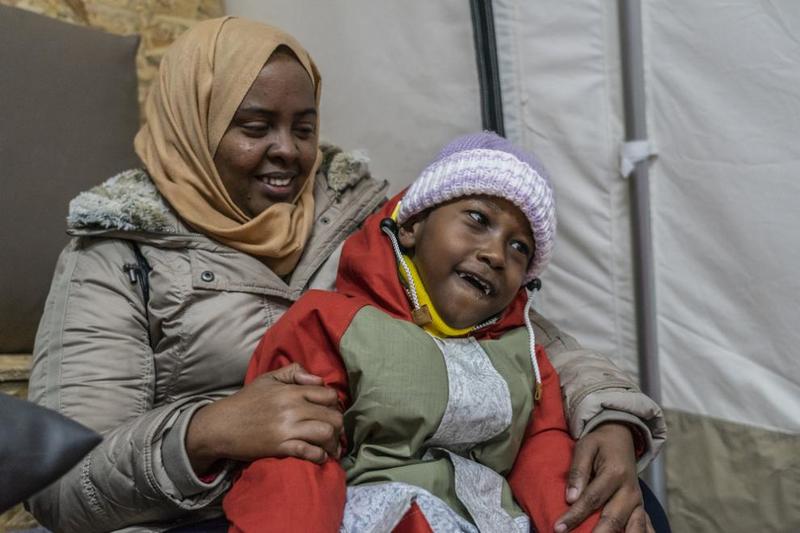 "I'm a single mother with a sick child who cannot stand, cannot sit and cannot move at all," she says, her voice breaking.
"My other three children are left to themselves because I need to be all the time with the sick one."
The only parts of his body that Abdul can move are his eyes and facial muscles; he also suffers from cognitive delay and his speech is slurred, but there is no mistaking his words when he tells me: "Moria not good".
"It's hard to sleep at night"
It's hard to believe that, after five years of the so-called European refugee crisis, the Greek government and the EU cannot even provide electricity, heating and enough water to families like these.
It's hard to sleep at night when you know that a few kilometres away, children like Zahra and Mohammed can't get to sleep because they are sick, cold and scared.
It's hard to hear of people fleeing wars, escaping torture and crossing seas only to be stabbed to death in Moria.
It's hard to see your WhatsApp messages and know that the woman who welcomed you several times in her tent in Moria is not going to message you anymore because she got burnt alive while she was trying to keep her family warm.
It's hard to witness this level of suffering in your country – here in Europe, where the fundamental values are supposed to be freedom, democracy, equality and respect for human dignity and human rights.
Unfortunately, today in Europe, these values are respected only selectively.
Ashamed
As a Greek and European citizen, I am deeply ashamed for the pain that my country and the EU is intentionally causing Samseyeh, Gul, Raido and the thousands of other mothers who came here in the hope of a better life.
I cannot even look them in the eyes anymore, knowing that we have failed them.
* Patients' names changed for privacy reasons