Before the hospital opened, if people from the Ziralo area (Bunyakiri health zone) wanted to be seen by a doctor, they had to walk for several hours through the forest and across streams that cover this part of the province of South Kivu, in the Democratic Republic of the Congo (DRC). The insecurity in the area posed an additional danger.
"When we started the project, it was really encouraging to see how people mobilised to open a passage when they heard that humanitarian aid was coming," says Germain, MSF logistician. "Later, communities continued to respond when we had to build or repair a building.
"Thanks to this support, the road from Cinono to the village of Kusisa was cleared, leaving room for motorcycles to bring construction material and transport our teams who arrived here in 2017," says Germain.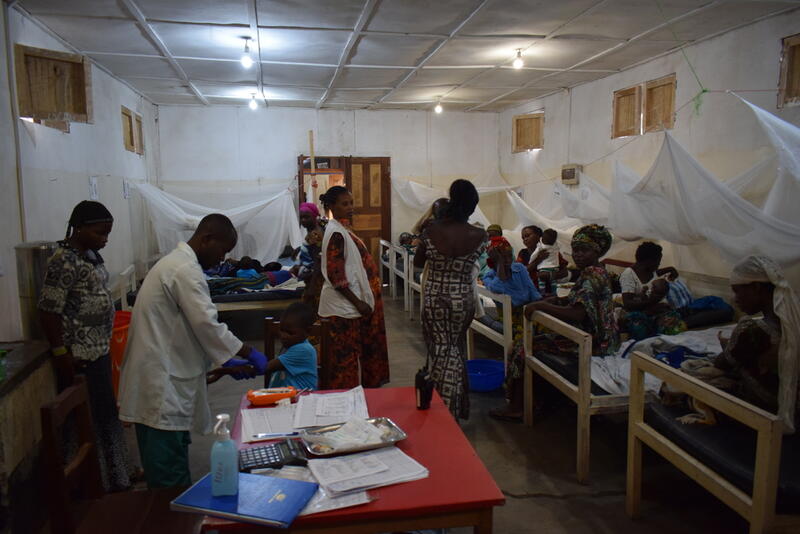 Previously, only a small health centre offered primary health care in the area. However, Kusisa now benefits from a hospital with surgical capacity, as well as a maternity unit, a paediatric ward and an emergency room, among other services. The construction of the structure was finalised in 2018 and the provincial health authorities officially recognised it as a hospital in 2020.
"Gradually, people from Bunyakiri began to come for treatment in Kusisa," says Dr Casumba Kangene. "I once met a pregnant woman on the road. She came from Mulonge – 120km away. "I asked her why she had not gone to the general referral hospital, which was much closer to her home. She told me she had heard that the maternity patients received food at our centre," says Dr Kangene. "She suffered from malnutrition and saw our project as the only chance to seek treatment to have a healthy baby."
Between 2017 and August 2021, approximately 4,800 children were born in Kusisa, including 569 by caesarean section; almost 15,000 people were hospitalised, around 700 urgent surgeries were performed and more than 101,000 outpatient medical consultations were carried out, including for malaria patients or severely malnourished children.
A legacy for the community
In recent years, medical indicators in the region have improved, including vaccination rates and community mortality. In early 2021, this led us to decide, in agreement with the Ministry of Health (MoH), to end our support in the area. The transfer took place on 1 September, while during the four months preceding the end of activities, our teams decided to support the hospital remotely following a security incident that affected one of our staff.
"As an organisation focused on emergency response, we are constantly adapting to focus our efforts where there is an urgent need for medical assistance," says Lucía Morera, MSF head of mission in the DRC. "Despite the challenges that this may represent, we will continue to monitor the evolution of the context and the health situation in the area, and we remain available through our emergency team to intervene if necessary."
We have trained the staff of the MoH and will donate logistical and medical equipment to support the structure for the next three months. Kusisa's infrastructure was designed to be energy self-sufficient – it relies entirely on a solar panel system and does not need generators, and our teams will provide regular maintenance to ensure this remains functional.
"It's always difficult to say goodbye to each other, but we keep with us the warmth of a community that has fought for accessible health services," says Morera. "We thank them because without their support, none of this would have been possible."