Thierry Allafort-Duverger, General Director of MSF France
Paris, 28 November 2017. Few days ago, our team in Libya gave medical consultations in a detention centre in the Misrata region to a group of 100 or so men and women. They had been taken to the centre after Libyan coastguards intercepted their boat and returned them to land. Although we work in detention centres, we have no idea of what happens to people held in them as patients we give consultations can disappear without a trace from one week to the next.
In the summer of 2017, the Libyan coastguard stepped up its interceptions at sea after an overt policy of support was instituted by the European Union and its member states— with France and Italy playing a major role. Libya is more than ever a snare awaiting people hoping to find work in the country or passing through on their way to Europe in search of refuge or a brighter future.
The shocking footage shown by CNN on 14 November 2017 brought to light a situation in Libya long denounced by many associations and international organizations. A lucrative business of abduction, torture and extortion of migrants and refugees reduced to mere commodities is facilitated by repressive migratory policies, as Europe is prepared to do whatever it takes to contain arrivals of migrants. Still, the televised images of slaves being sold shown on the US news channel did prompt some political reaction, as France condemned a "crime against humanity" and demanded an emergency session of the Security Council.
But what to think of those who, like Emmanuel Macron, categorise and condemn what's happening in Libya while "at the same time" continuing to support Libya's coastguard and fund other measures aiming at keeping people in the very hell they are doing their utmost to escape?
This is a whole new level of hypocrisy! Who can still dare to pretend that men, women and children, disembarked from intercepted boats and returned to Libya, are accommodated in comfortable, freshly painted centres refurbished to "international standards", thanks to the generosity of the European taxpayer? Once back on land, there can be no doubt that they are thrown straight back into extreme violence and depravation against the background of blurred boundaries between the authorities and trafficker networks reported for years by numerous observers.
The insecurity and restrictions on access make us only too aware of the limits of what we can hope to achieve in Libya's detention centres. Our doctors, who do not have unimpeded access to detainees, are not free to decide who to examine or to treat, with some kept hidden away to prevent our teams from assisting them. Pretending that money is all that's needed to improve conditions in Libyan detention centres is a fallacy. Much like diplomatic representations and other United Nations agencies, the IOM and UNHCR have only a limited presence in Libya.
To what extent does MSF's presence serve to cast a veneer of humanity over a brutal system? This is a dilemma, which, in spite of everything, we endeavour to overcome by constantly weighing up our capacity to provide vital assistance to people in distress, to reach out to them to raise awareness to the violence and inhumanity of their situation, given the increasingly life-threatening solutions instituted to contain migratory flows.
There is no one easy solution, but expressing outrage at the crimes committed against migrants in Libya while pursuing an overt policy of return and keeping as many of them as possible on the other side of the Mediterranean is, at the very least, shameful. The incompatibility between these two attitudes is no figment of MSF's imagination: in October 2017, the number of migrants held in official detention centres tripled, according to estimates provided by the IMO and the Department of Combating Illegal Migration, the Libyan agency that runs them.
UN human rights observers were shocked by what they saw in detention centres in Tripoli during their mission at the beginning of November. They saw thousands of emaciated and traumatised people piled on top of each other, locked up in hangars, subjected to extreme types of violence and abuse. On 14 November 2017, Mr Zeid Raad Al Hussein, the High Commissioner for Human Rights, declared that since the European Union stepped up its interventions to stem migration, monitoring has shown a deterioration in already deplorable conditions of detention of migrants and refugees in Libya.
What is Mr Macron hoping to achieve with concrete military and policing action in Libya to dismantle smuggling networks? Another foreign military intervention will most definitely serve only to fuel the dynamics of the conflict in Libya, where no authority can make claim to holding a legitimate monopoly on violence.
Fighting against smugglers without providing safe and legal ways to move and flee is a dead-end. Beyond the token gestures, what is urgently required is a shift that translates into actions in France and its European partners' migratory policy in Libya. Actions, however small, must be facilitated not only to help alleviate the suffering of those subjected to a living nightmare in Libya but, even more importantly, to put an immediate end to policies that simply add to their misery.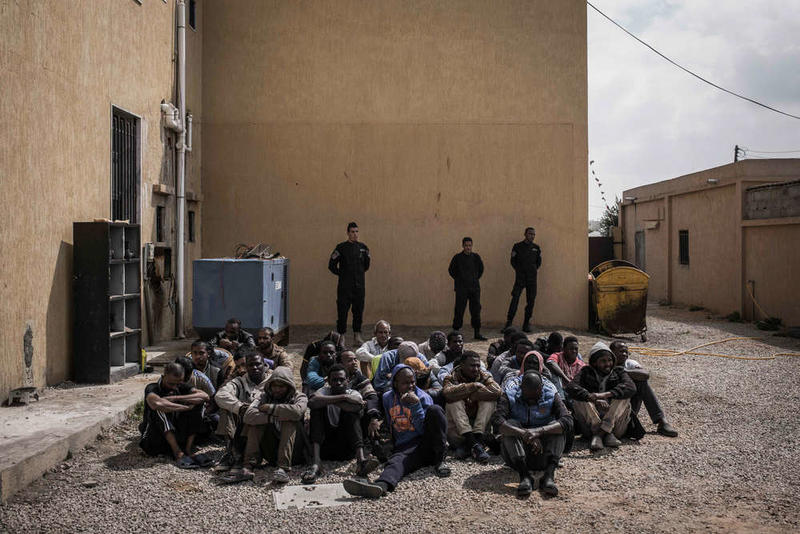 Thus, once again, we urge the European Union and its member states—and more particularly France and Italy which have a key role—to facilitate sea search and rescue operations and cease their support to Libyan coastguards with intercepting and returning migrants and refugees attempting to flee Libya, a country, let us not forget, that is not even a signatory to the Geneva Convention on the status of refugees. Failing this, France will descend still further into complicity with the very crimes it condemns.
France has taken a constructive initiative with the first mission operated by OFPRA (French Office for the Protection of Refugees and Stateless Persons) in Niger. This will enable a group of refugees to be granted asylum in France without having to undergo perilous journeys – or after surviving it in the case of the 25 survivors evacuated from Tripoli to Niamey by the UNHCR that will be part of it. Nobody knows yet how many will benefit from these initiatives, but it will be no more than a drop in the ocean—as is, as already pointed out, what MSF is managing to achieve. Furthermore, what is to be the fate of all those who have suffered the unmentionable but are not eligible for refugee status?
All these people who find themselves trapped in the Libyan snare, set in part by France and the European Union, must be afforded all possible means of escape. This includes the full application of the right of asylum for anyone eligible, increasing offers of voluntary return to countries of origin for genuine candidates and implementing supplementary forms of protection, in neighbouring countries, in Europe (and this includes France) to meet the needs of survivors of a hell on earth.
---
Working in Libya since 2011, Médecins sans frontières has been providing assistance and medical care to refugees and migrants in detention centres located in Tripoli and Misrata areas for over a year.