ROME - Teams from Médecins Sans Frontières (MSF) in Italy are providing support to Italian health authorities in response to the COVID-19 coronavirus pandemic. MSF staff are based in four hospitals in the northern Italian province of Lodi, part of the Lombardy region, the epicentre of the outbreak in the country.
The MSF team in Lodi province is composed of Italian infectious disease specialists, anaesthetists, nurses and logisticians, who bring their global experience in managing epidemics from the countries where MSF works to support Italian hospitals. The MSF staff are working in collaboration with local health authorities and personnel of hospitals in the cities of Lodi, Codogno, Casalpusterlengo, and Sant'Angelo Lodigiano, on a number of activities, including disease prevention and care for patients.
The addition of MSF staff at Codogno hospital will allow for around 20 existing beds to re-open, which had been unused due to a lack of staff. The MSF team will work alongside doctors and nurses from other departments of the facility and together will provide care to COVID-19 patients.
"We've met doctors and nurses in Lodi province who have been working tirelessly for weeks in an extraordinary situation," says Dr Claudia Lodesani, infectious disease specialist and President of MSF Italy, who is coordinating MSF's COVID-19 response in Italy. "We are providing support to help with the huge needs and workload of local hospital staff in responding to this pandemic, to help care for patients."
The infectious disease support activities will reinforce prevention and control actions already implemented within the hospitals, to avoid the transmission of the virus and guarantee the safety of health workers.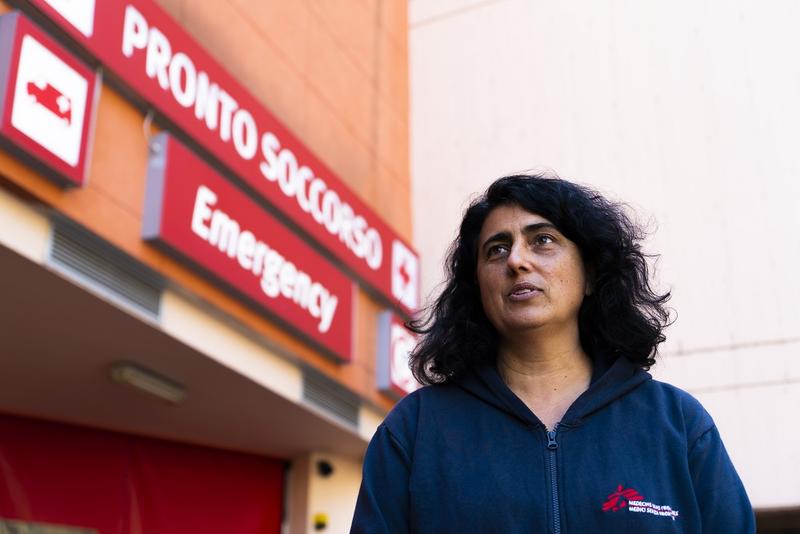 "In an epidemic like this, stopping the transmission of the virus is crucial. In hospitals it is key to reduce the risks for frontline staff, a key factor to fight the epidemic," says Dr Lodesani. "Outside, everyone must respect the instructions of the Ministry of Health, to curb the infection and avoid further burdening hospitals, which need to continue to treat people for other illnesses and injuries."
MSF has offered our support to the response in Italy as one of the most affected countries by the COVID-19 pandemic. Our teams are working in solidarity with Italian people and the healthcare professionals working on the frontline to stop the epidemic. MSF is also in contact with health authorities in other countries where we work, on the COVID-19 pandemic. Given the scale of the pandemic, MSF's ability to support further countries will depend on the nature of the outbreak but also on its capacity to deploy.
Read more on our international website: