After almost eight years, Médecins Sans Frontières/Doctors Without Borders (MSF) has handed over its activities at the Al-Salamah hospital in Azaz, north-west Syria. Our teams set up the hospital in a former school, when the Syrian conflict escalated into a full-fledged civil war and civilians started fleeing en masse from the frontlines to areas like Aleppo, 30 km south of the hospital.

"Now, eight years later, the war is still going on; the lives of hundreds of thousands of people have been lost and millions more have been forced from their homes," says Manuel López, MSF's head of mission in Syria. "But the situation has changed and the humanitarian needs that prompted us to start activities can be covered by other organisations. There are also more health facilities that people in the area can get to. Despite this, humanitarian needs in the region remain huge, especially for the hundreds of thousands of displaced people."

Activities at the new hospital grew quickly after its opening due to the increasing needs in the area. They reached a peak in 2015, when the worsening situation in Aleppo made it even harder for people in the northern part of the governorate to access functioning health facilities. Al-Salamah hospital became the largest directly-run MSF facility inside Syria. Between 2016 and 2018, around 300,000 outpatient consultations and more than 10,000 surgeries were performed there.

The building that once housed the local school is today a 25-bed working hospital, offering a range of services, including an emergency room and inpatient department.

Over the last few months, MSF has started to reduce its presence at the hospital, but our teams were still working in key departments that have now been handed over to local health authorities and the Syrian American Medical Society, an NGO supporting medical activities in northern Syria.
MSF teams will remain in Azaz to provide basic health services for tens of thousands of displaced people living in extremely hard conditions in the numerous displacement camps and settlements, where the new COVID-19 pandemic has only worsened an already dire situation.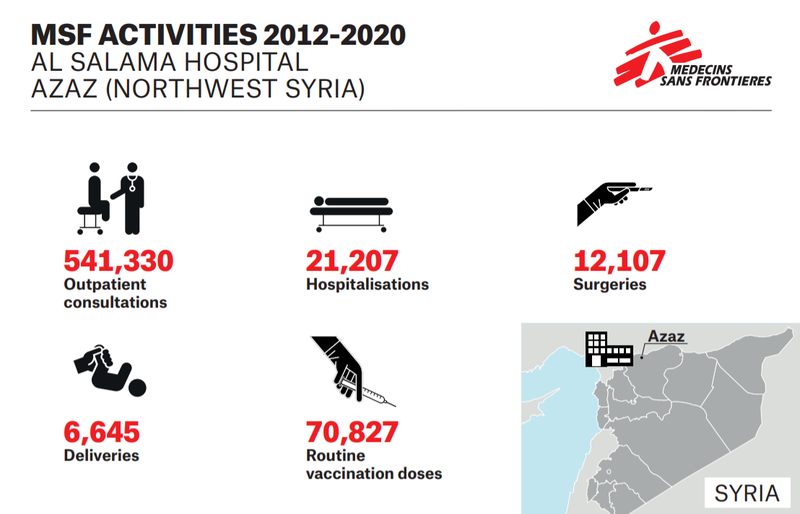 In Idlib and Aleppo governorates (north-west Syria), MSF supports and co-manages several hospitals and health facilities. In addition, our teams regularly operate mobile clinics and distribute relief items in the many displacement camps and unofficial settlements in the area.
In northeast Syria, MSF's work includes supporting national hospitals (Raqqa, Mishlab) and in Hassakeh with COVID-19 preparation. In Kobane, we support routine vaccinations. In Al Hol camp, we run different activities and in July 2020, we opened a primary healthcare clinic.