Yana*, 25, from Syria, is a mother to two young children, a boy of 11 and a baby girl of 16 months. For days they have been sleeping in a tent pitched on a roadside in the holiday town of Kos, along with Yana's husband and cousin. Yana's baby daughter is teething, and over the sound of her cries, Yana describes what brought them here.
"We are refugees. We lived in the city of Deir Azzor. At home there is war – rockets and planes dropping bombs.
In Syria, we had no one to defend us against the fighting – no source of protection. In the evenings, we were forbidden to turn the lights on, because otherwise the military planes and helicopters above would bomb us. 
Then one day the rockets hit the house where we lived. As we escaped, my father was shot in the road.
We left Syria and travelled to Turkey, where we stayed for one month and 10 days. Then we took an overcrowded boat from Bodrum, on the Turkish coast, to Kos.
It was as if I saw death
There were about 60 people on this boat, which was meant to hold 10-15 people maximum.
There were eight children and babies on board, all gathered in the middle of the boat, with the adults all around the sides. It was so overcrowded that at one point my baby daughter couldn't breathe.
The journey took 40 minutes – it was 40 minutes of nightmare. I was so scared, it was as if I saw death. I had to keep my eye closed. The water was entering the boat and everyone got wet, the children too.
When we arrived on Kos, all our clothes were wet, but we had nothing else to wear, because we had chucked our entire luggage into the sea to make more room on the boat.
I wouldn't make that journey again – impossible. No, no, no.
No future
We took this horrific, dangerous journey because we wanted to make our children's lives easier, safer and better. There is no future in Syria for our children.
We still have family in Syria: my mother; brother and sister are there. They couldn't escape because they don't have the money. It costs a lot of money to get here illegally.
We paid the facilitators 3,000 euros for the four of us to make this journey. But we hope one day my mother, brother and sister can escape to be with us.
Under Daesh control
We were able to contact our family in Syria with WhatsApp. But it is very dangerous for my family in Syria to access the internet, because the Daesh [IS] has stopped all internet access. But there are some secret places where it can be accessed, and my brother managed to go there to learn that we had arrived safely.
The Daesh have total control of the city. They take our houses, they take farmers' land, and they say they are now the state. They are not Muslims but terrorists. My brother told me that five days ago, the Daesh commanded that all women must stay inside their houses and not go out.
As we arrived in Kos with nothing, we have had to buy everything here for ourselves – the tent, which cost 50 euros, clothes for the children, nappies – everything we need.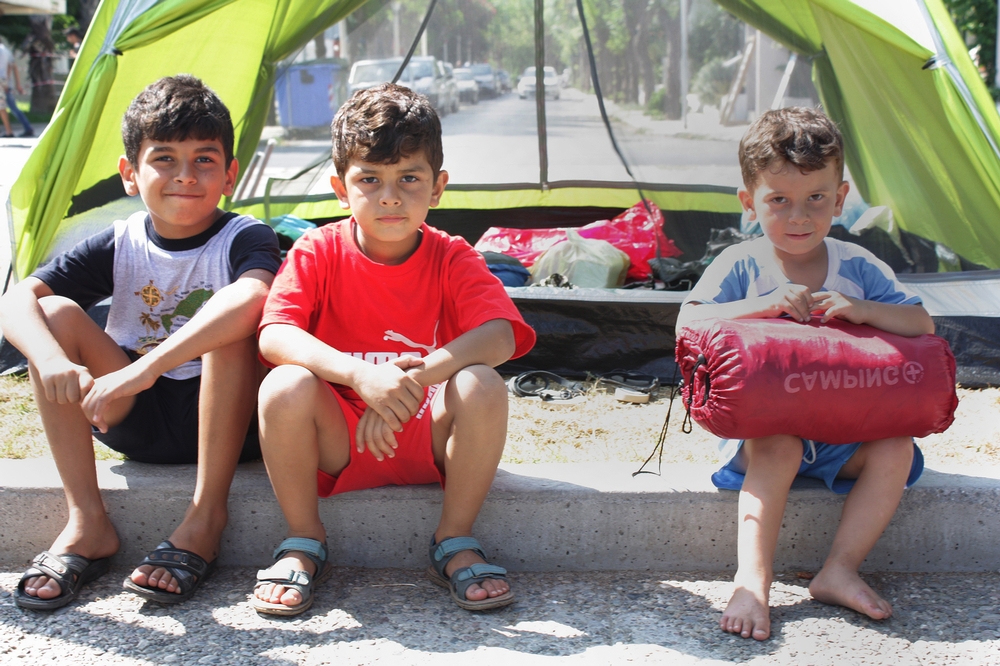 Dirty conditions
My daughter has spots on her face because of the dirty conditions, the rubbish all around and also the high temperatures. We will visit the doctor [at MSF's mobile clinic] in the morning. And in the evening we will take the ferry to Athens, because we have managed to get our registration papers.
We hope to travel to Germany. We hope there we will be able to find work and a safe home. Everything we have done has been for our children.
It was the best life ever
But when the war is over, I want to go back to Damascus – it is beautiful there. We have seen Turkey, we have seen Greece, we are heading to Germany, but I don't want to stay there forever. I want to return to my Syria. In my mind I have all my memories of life in Syria – it was the best life ever."
* Name has been changed.