Thirteen survivors of the 7 October shipwreck off the Italian island of Lampedusa are being provided with psychological support by a team from Médecins Sans Frontières/Doctors Without Borders (MSF). When the boat capsized, 50 people were on board, but only 22 survived. One week later, the boat was found by the Italian Coastguard, who are currently recovering 12 remaining bodies from the vessel.
Since 19 October, MSF's team – composed of a psychologist and a cultural mediator – has been providing support to six women from Côte d'Ivoire and seven men from Tunisia in group sessions. The team was also on hand as the survivors identified the bodies of family and friends. MSF psychologist Dario Terenzi looks back on the past five days.
"When the survivors had to identify the bodies, it was a heartbreaking three hours of pain and anguish. They were all tense and some trembled with fear at the thought of seeing the bodies of their travelling companions.
I could sense their tension in the minutes before they saw the photographs of what was left of their loved ones. The bodies had been battered by the sea. One young woman asked why some had turned white. The sea water had corroded them and changed the colour of the skin. The sea had distorted their features, often making their faces unrecognisable. Some could only be identified by a piece of clothing.
One young woman from Côte d'Ivoire recognised her partner only by the T-shirt he wore on the day he was lost to the sea. Despite her fear, she wanted to see him for one last time. Immediately afterwards, she collapsed, disappearing into a long cry of pain and despair. We provided what assistance we could, then accompanied her to her room, where slowly, with the help of her travelling companions, she recovered.
All of our patients are a lot calmer than they were. When we met them that first day, their eyes were fixed, their bodies were rigid and some couldn't even speak. Many are still having nightmares, experiencing trouble sleeping or are fearful of being on their own. Some haven't slept in days, have lost their appetite and say they feel overwhelmed by intrusive images and thoughts, as they constantly revisit and relive the shipwreck. Many are wondering why they are still alive – why they are the ones who made it.
When offering psychological support, we welcome and embrace these feelings of theirs. We share them and in some way we try to make them more tolerable and more comprehensible to their minds and their hearts. It will take a lot of time and effort before their memories begin to fade and their anxiety dissipates.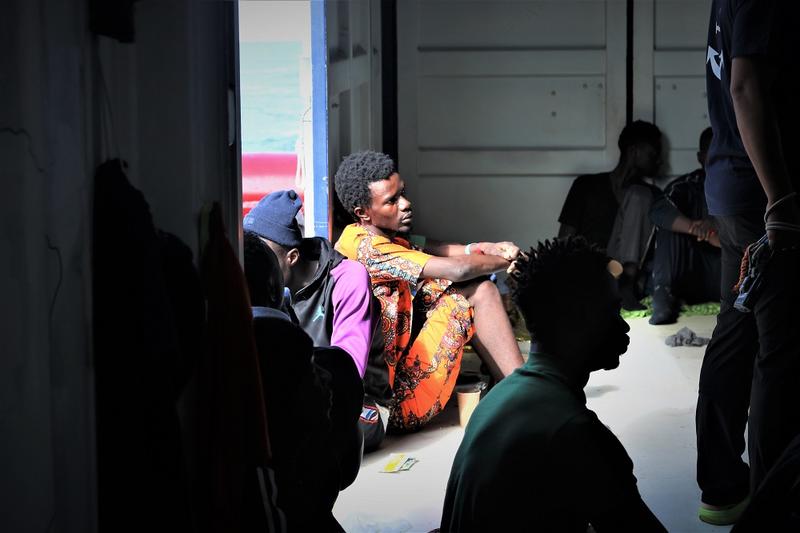 The survivors of the shipwreck need to move on from Lampedusa. They've told us clearly that they don't want to stay here any longer. They feel overwhelmed by the tragedy and they wonder why they are being kept here – here where their loved ones died.
MSF has asked the authorities not to separate the two groups of survivors – the six Ivorian women and the seven Tunisian men – and to transfer them to the same reception centre. Allowing them to stay together is a small, but very helpful, protection measure. We've seen in the past that it can significantly help survivors of shipwrecks. A shipwreck is something that binds you together for life. The authorities have accepted our request.
We are happy to have brought some relief to these survivors, but a deep bitterness remains. Every time we return home, it is in the hope that we won't have to respond like this again. But these hopes are in vain, because people continue to die at sea. This is unacceptable."