Conflict broke out in South Sudan in December 2013 when President Salva Kiir accused Vice President Riek Machar of plotting a coup.
The conflict started in the capital, Juba, but rapidly spread throughout the country, involving a large spectrum of armed groups and militias. There have been several attempts at peace agreements, all of which have been short-lived. Despite the latest peace deal signed on 26 August 2015, fighting continues.
Throughout the 23 months of conflict, Unity state has been one of the most conflict-affected states. In April 2015, following an upsurge of violence in Unity, thousands of civilians were forced to flee into the surrounding bush and swamplands or into the UN Protection of Civilians (PoC) sites in Bentiu.
Thousands forced to flee
Almost 600,000 people are displaced in Unity state. The population of the PoC sites in Bentiu increased from approximately 45,000 in May 2015 to around 106,000 in November 2015.
Civilians have been repeatedly targeted and subjected to extreme levels of violence, including rapes, abductions, extortions, lootings and executions.
No one has been spared the violence. Médecins Sans Frontières/Doctors Without Borders (MSF) teams continuously receive accounts of violence perpetrated against the people of Unity state.
Stories of rape and murder
In Bentiu, a woman in her late fifties, who fled Leer town, told MSF in late October 2015:
"When the conflict started, it was between armed groups, but the conflict is now targeting civilians. The armed men collected cows from civilians and they're killing the people.
"They're also abducting girls, and raping women and girls. After they rape, they kill […]. Whenever they find someone in Leer, they kill him or her. They burn the houses. But the real issue is that they kill people. Since May, they kill people and collect all the cows.
"There's no cows, no food, nothing left. That's why we come to the camp [the UN PoC sites] in Bentiu. People who are still in the swamps, hunger will kill them."
Trapped in violence
These levels of extreme violence in recent weeks and months have left thousands of people in Unity state essentially trapped in violence. The UN Mission in South Sudan (UNMISS) is providing protection to civilians inside of PoC sites in Bentiu but has failed in providing effective protection outside the PoC sites.
While UNMISS established a renewed presence in Leer in November 2015, protection gaps still remain in various parts of Unity state.
In Nyal, a young man who fled Leer told MSF in early November 2015:
"The people displaced in the bush have no food. All the food stocks are gone. Desperate, a lady walked to town to get food. On her way, she got raped. She is paralysed by fear. She is now hiding in the bush. She is too scared to move again."
Deadly shortages of food
The humanitarian situation has continued to worsen. In southern Unity, the most urgent humanitarian needs are food assistance and nutrition support. In November and December, MSF mobile clinics to Leer and Mayendit counties (with an approximate population of 35,000) encountered high levels of malnutrition.
Despite the high humanitarian needs, there has not been a continued and adequate presence of humanitarian agencies in the most affected areas of southern Unity state.  
Prevailing insecurity forced MSF and other agencies to evacuate Leer county in May 2015. MSF resumed activities in Leer at the end of July 2015 but was again forced to evacuate on 3 October 2015 after its compound was looted.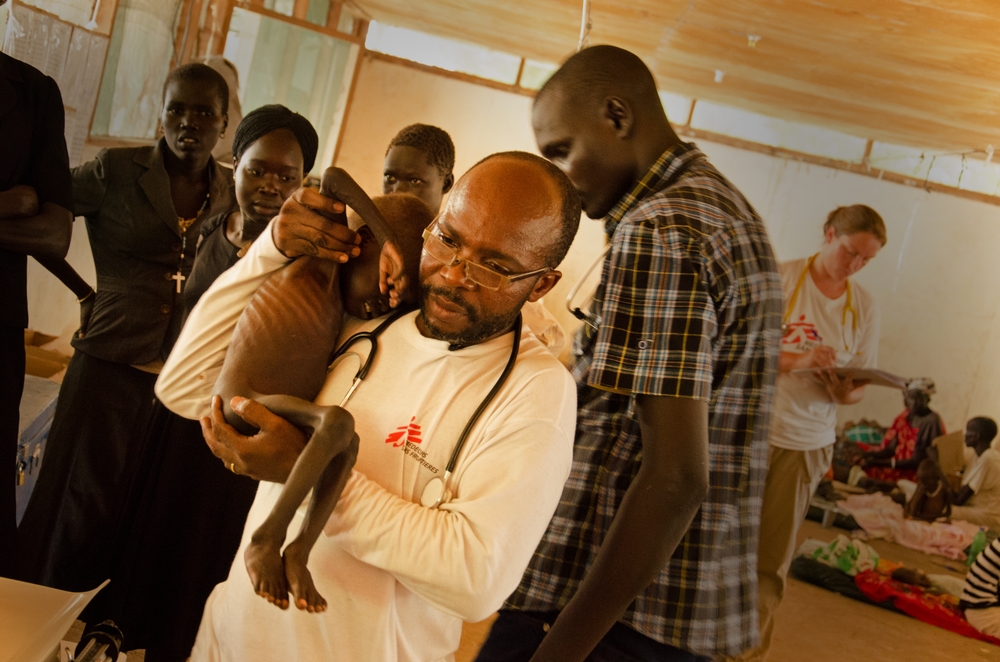 Getting back to work in Leer
MSF re-engaged in Leer mid-November 2015 and is presently scaling up its activities in the town and surrounding villages.
In early December 2015, other humanitarian organisations re-engaged in southern Unity.
There is an urgent need for a sustained humanitarian presence in southern Unity state.
MSF in South Sudan
MSF has been working in the region that today constitutes the Republic of South Sudan since 1983. Today, we employ more than 2,937 South Sudanese staff and 329 international staff to respond to a wide range of medical emergencies and provide free, high quality healthcare in 18 projects across seven of South Sudan's 10 states.
From 1 January to 3 October 2015, we provided 532,305 outpatient consultations across the country, of which 197,670 were for children under five-years-old. We have performed 8,574 surgical operations, 4,776 of which were for war-wounded patients.
We have also treated 10,982 children for malnutrition, of whom 4,042 were admitted to hospital.