Disrupted services
Young Bangladeshi mother Noor Haba pulls her headscarf close around her face with one hand; with the other she strokes the back of her seven-year-old daughter Shahara, who lies semi-conscious on the hospital bed. Shahara is being treated for thalassaemia, a genetic blood disorder.
"I'm afraid all the time" Noor Haba says. "I worry for my children and for my family. I pray that they will get better and this situation will improve."
Across Bangladesh, the numbers of people suffering from COVID-19 has climbed persistently since March. At time of writing (July 02), there are over 149,000 cases – but as in all countries, these figures show only a tiny fraction of the story. The pandemic is having a catastrophic effect on all aspects of people's lives; from rising unemployment to access to basic healthcare.
Here in the paediatric ward at Médecins Sans Frontières/Doctors Without Borders (MSF)'s Goyalmara mother and child hospital in Bangladesh's Cox's Bazar district, this could not be more evident.
The MSF nurse inserts a needle into Shahara's arm and draws blood into a syringe. As the child cries out and writhes on the bed, her mother soothes her.
"It's to find a blood match," explains the nurse.
Shahara's legs and arms are stick thin; her belly is extended from the swollen spleen caused by her condition and exacerbated by malnutrition. Thalassaemia causes decreased haemoglobin levels and can be fatal if not treated with regular blood transfusions.
Sharaha is the second of Noor Haba's five children to suffer from thalassaemia, and Noor Haba has to bring them both to hospital every two months for blood transfusions. As there is no blood bank, she relies on people coming to the hospital voluntarily to give blood – usually a simple matter. But because of the pandemic, they've been waiting for a blood donor for three days now.
"We're searching everywhere," Noor Haba says. "Normally we can easily find someone to give blood. But this time I can't find any blood donors due to the COVID-19 situation. No one wants to come to the hospital because they feel afraid."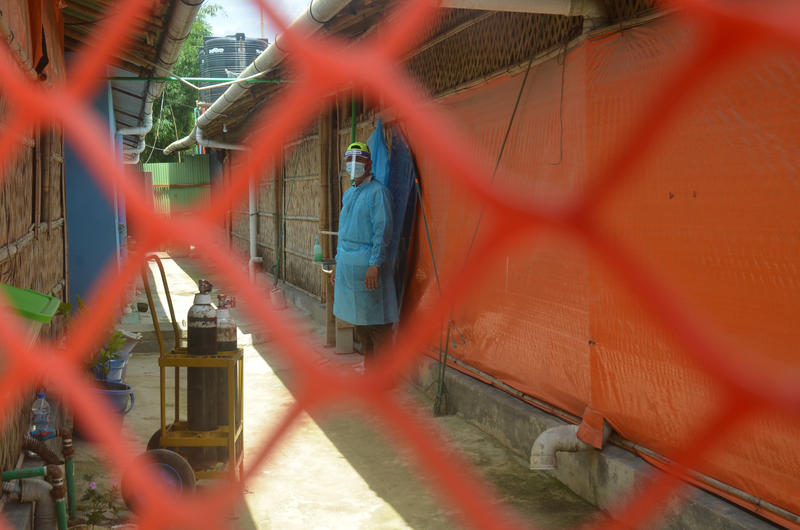 Many people are scared to come to a medical facility for fear of catching the virus, while lockdown measures have made travel difficult. Prices for public transport have tripled.
Noor Haba and her family face a bleak dilemma. Noor Haba's husband has lost his job as a daily labourer because of the COVID-19 restrictions. To keep her daughters alive, she has to regularly make the 90-minute journey to the hospital, even though the family can barely afford to eat..On this occasion, she had to take a loan of 300 taka [2 euros] to pay their bus fare.
"It's so hard," Noor Haba says. "I have no money to go home. We have five children and I don't know how we'll feed them."
Prior to the arrival of COVID-19 in Bangladesh, MSF had finalised arrangements to send thalassaemia patients to a nearby surgical facility for splenectomies, reducing their need for regular blood transfusions and improving their quality of life – while also making it easier for struggling families like Noor Haba's.
But due to COVID-19, the facility is now unable to offer this service.
Facing shortages of staff and a lack of essential medical supplies and protective equipment such as masks, many health facilities, including those run by MSF, have had to take the distressing decision to reduce or close services. Across Cox's Bazar district and in Dhaka, MSF has reduced its medical services to focus on lifesaving activities only. The outpatient department of Goyalmara hospital is currently closed.
MSF paediatrician Ferdyoli Porcel says: "For me, the most problematic thing is that people will start dying not from COVID-19, but from other diseases – normal diseases that we could treat."
Stigma
Many people suffering from COVID-19 symptoms face the dual challenge of tackling the virus together with the social consequences of being diagnosed positive.
Mohammad, a Rohingya father living in one of the many refugee camps in Cox's Bazar district, was diagnosed with COVID-19 and taken to MSF's Kutupalong field hospital, where he was isolated and received treatment.
Although global health guidelines state that close contacts of a COVID-19 patient can safely quarantine at home, Mohammad's family were put under pressure by the community to leave their home and quarantine in a remote location. Mohammad was terrified that his family would be taken from their home against their will.
"People were threatening, saying they would burn our house down if my family didn't go into quarantine," he says. "It was so shameful for my family. They felt extremely frightened."
As MSF has seen in infectious disease outbreaks across the world, from Ebola to diphtheria, trust is central to the public health response. People must trust that any medical treatment they receive will be respectful and humane, and that they and their families will be safe if they seek medical care.
Patients with COVID-19 have told MSF staff of families being taken to quarantine centres against their will; of being threatened with eviction from their homes; and of being subjected to aggressive and threatening language.
Such experiences may prevent people with symptoms from seeking testing or treatment, further exacerbating the spread of the virus.
As Mohammad explains: "It is experiences like this that are discouraging people from coming to health clinics if they have COVID-19 symptoms."
Hopes for the future
Yet amidst the pandemic, life goes on. Mothers give birth and families make plans for their future. MSF continues to run reproductive health services in all its facilities in Bangladesh, supporting women and children in need. However, the COVID-19 pandemic has affected these services too.
New mother Syeda was recently admitted to the isolation ward in Goyalmara hospital.
To talk to her, you first have to don full personal protective gear – head-to-toe gown, face mask and plastic face shield. Syeda wears a surgical mask; her eyes above the mask are frightened. Her baby son, just a few days old, is breathing with the help of a plastic tube attached to an oxygen canister.
"I'm so scared for my baby and myself," she says. "I worry about when we will be able to go home."
Syeda has had a nightmarish experience that no mother could wish for. After collapsing during labour, she was rushed to a clinic for an emergency caesarean. Soon after, both she and her newborn were diagnosed with COVID-19. They were referred to MSF's Goyalmara hospital, where they are now receiving treatment.
"This is my first baby," says Syeda. "But right now I can't think about our future at all. Once my baby is well, then I can think about it."
Luckily, their symptoms are mild. "Now my baby is receiving oxygen he's improving," Syeda says. "He is better than before."
Several miles away in MSF's Jamtoli clinic, another mother, Rohingya refugee Shokutara, sits beside her newborn son, born hours earlier. Unable to hold back delight, she beams a huge smile. "I am so happy," she says.
But the spectre of COVID hangs over her family too.
"I am worried about COVID-19 because we know about the virus," Shokutara says. "People tell us to maintain space, but that isn't possible to do because we live close together. But still we try as best we can."
Yet Shokutara still holds onto her hopes for the future.
"In Myanmar we faced so many hardships and were afraid. They tortured us," she says. "So I am happy here. I want my son and my daughter to both become educated so they can have a good future."
Names have been changed to protect patients' identities.
Read more on our international website:
Our response to the coronavirus COVID-19 pandemic