In Mosul, it's been one year since the conflict officially ended. But the battle to rebuild the city and people's lives is far from over. Large swathes of Mosul, particularly in the west, remain decimated. Mines and booby traps still ensnare homes and health facilities.
Some people with no other option have returned to Mosul and live in their damaged homes, often without water and electricity. Poor hygiene conditions are increasing the risk of disease, and trauma injuries are a regular occurrence as people try to rebuild their houses in dangerous conditions.
Access to healthcare is a daily struggle with nine out of the 13 hospitals damaged in the conflict. The reconstruction of health facilities has been extremely slow and there are still only five beds per 10,000 people, well below the international minimum standards for health service delivery.
In 2017, MSF worked in and around Mosul to provide lifesaving services for people caught in the violence. We ran several trauma stabilisation posts in East and West Mosul, and managed four hospitals offering a range of services including emergency and intensive care, surgery and maternal healthcare. MSF currently runs a maternity hospital in west Mosul and a surgery and post-operative care facility for war-wounded patients in east Mosul.
Following the return of people to the Hawija area, MSF opened a clinic in Al-Abassi for the treatment of non-communicable diseases (NCD) and mental health care. MSF rehabilitated the water supply systems in Al-Abassi and will do the same for Al-Shajera, which will provide clean drinking water for an estimated 35,000 people and prevent the spread of waterborne diseases. MSF also opened a primary health care clinic in Hawija city, which will soon offer NCD treatment, mental health services and sexual reproductive healthcare. As more people return to Hawija, MSF will provide emergency room services in the city's hospital.
---
One year after the Mosul conflict war wounded still suffer pain and depression
The frustration and pain is etched on Nashwan's face. The external fixture holding his broken bones together protrudes uncomfortably from his leg. In March 2017, a sniper shot him in the back and leg during the conflict in Mosul between the Islamic State (IS) group and Iraqi forces. Nashwan is from west Mosul and has struggled for more than a year to access healthcare to repair his leg. He is currently receiving treatment at the Médecins Sans Frontières / Doctors Without Borders (MSF) post-operative care facility in east Mosul. This is Nashwan's story:
"My name is Nashwan and I was born in 1976. I have three children and I have been married for 15 years. I have a diploma in information technology but after graduation I couldn't get work in the public sector so I worked as a freelancer. Then I drove a taxi. We had a comfortable life.
We still live in Mosul in the same house and the same area. Even during the darkest times of the conflict, we didn't flee.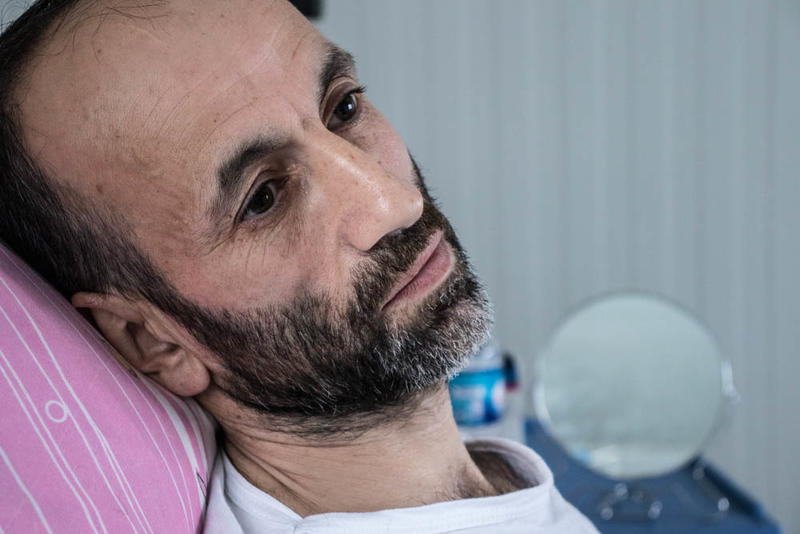 On 11 March 2017, our neighbourhood was retaken [from the Islamic State group]. Two days later, we went out to buy food and we were happy. But the fighting was continuing in the neighbourhoods around ours. There was a tall building nearby and there was a sniper on top. He started hunting us down. My neighbour was shot in the head and killed. My brother was shot in the leg. The sniper shot me in the back and in the leg.
People in the neighbourhood helped us and they took us to the Iraqi forces. The soldiers checked our documents and then took us to the hospital in Hamman al-Alil (30km south of Mosul). There, doctors checked me and then sent me to Qayyarah. In the Qayyarah hospital, they removed the bullet from my back. But they didn't have the capacity to treat my leg. So, they sent me to Erbil.
In Erbil, they put the external fixations on my leg and said that I would be fine and would just need time. After five days, I went back to the east side of Mosul. I live in the west side of Mosul but all the roads were still closed or destroyed [because of the ongoing conflict], so my family put me on a cart and pushed me home. I waited in my house for several months for the bombs to stop.
During these seven months at home, the pain started to grow in my leg and hip, and eventually it became unbearable. So in October 2017, I went to the general hospital in west Mosul. They did x-rays and tests and they said I needed a huge operation. But they didn't have the capacity to do the operation.
Afterwards, I went to a private doctor. He said it was a massive operation and it would cost 2 million IQD ($USD 1,664). My economic situation was bad at the time and we had small children. My neighbours came together and raised the money for my operation. I did it in a private hospital. They inserted an internal fixation.
After the operation I went home for six months. I still had pain and it was increasing. Eventually it was so unbearable that I couldn't stand it anymore. But I didn't have any money. The wound started opening and fluids started coming out of it. So I went to the general hospital.
The general hospital referred me to the MSF post-operative care facility and I arrived on 11 April 2018. I was one of the first patients. Since I came here I have had three surgeries. First, they opened the wound and cleaned it. They were concerned about all the fluid coming out, so they did some tests. They took a sample from the wound and they prescribed a certain type of drug for me to take.
Life has been really hard. My injury has had a negative impact on my life - my family, the way I interact with my kids. I can't play with them. I can't work and we haven't had an income. I've been really depressed and I cannot talk to people. Even to go to the bathroom, I need someone with me. And I need the crutches to go everywhere. It's been really hard for me. But thankfully the hardest part has passed now that I am here."
---
"I just want my family to be together again and I don't want anything else to happen."
The scars on 18-year-old Anoud's face show only a fraction of the pain she has endured over the past year. In 2017, her family's house in Hawija, central Iraq, was hit by a bomb. The loss and damage was unimaginable. For the past year, her family has been separated as they desperately try to seek medical care to heal their injuries. Anoud is currently looking after her eight-year-old sister, Bushra, who is receiving treatment in a Médecins Sans Frontières / Doctors Without Borders (MSF) surgery and post-operative care unit in east Mosul. This is Bushra and Anoud's story:
Anoud, 18
It was the fifth day of Ramadan last year when the attack happened. We were in our home in Hawija. We had fasted for five days by then. We were sitting in the garden. A rocket hit our neighbour's house. We ran to see if our neighbours were OK and we brought them all to my father's house. And that was the moment when our house was bombed.
We lost a sister and a brother in the attack. The rest of us were all injured. My mother lost her leg. I got shrapnel in my left eye, in my hand and my leg. I also broke my leg. My youngest sister's eye was severely injured and her hands were ruined.
Shrapnel hit Bushra's knee and her knee cap was badly damaged. Now her knee cap is gone. She also has shrapnel in her head. It's still there and the doctors don't want to move it because they say any movement will be fatal. She also has shrapnel in her chest, hand, and eye. She can't fully see. If she only uses her right eye she can't look straight, she has to look to the left.
They took us to Hawija hospital, but they couldn't treat us there. So they took us to Shirqat. My mother and I stayed here, but they couldn't treat Bushra and my other little sister. They sent them to Tikrit, but they couldn't treat them either, so then they were referred to Kirkuk hospital where an NGO helped them.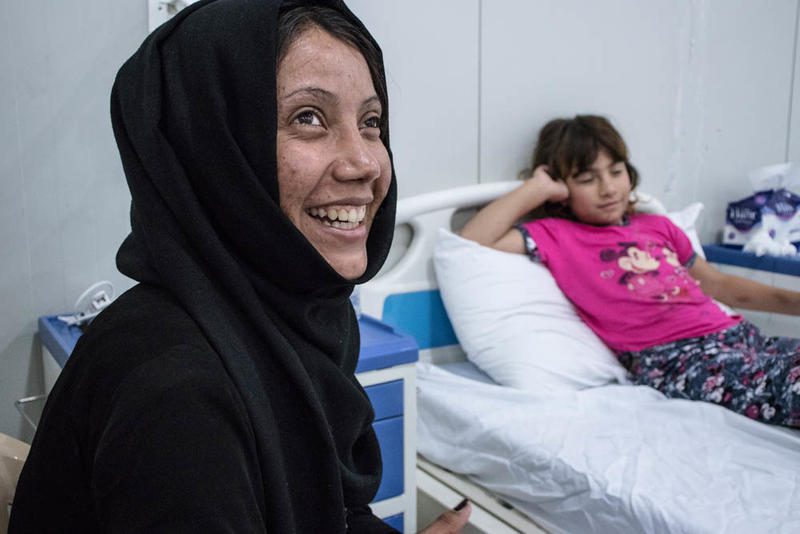 Bushra and my other little sister were taken to Sulaymaniyah (north-east Iraq) for treatment for six months, so we were separated.
Now my mother is in Lebanon with my youngest sister who is receiving treatment for her injuries. They have been there for two months. I talked to them last night and my mother confirmed my sister has lost her eye.
The doctors did an operation on her hands and now they're fine. If she had stayed in Iraq, they would have amputated her hands. They are coming back in eight days.
I forget a lot of what happened. They were really horrific events and I spent the first six months almost asleep. I wasn't myself. It was as if I was daydreaming. I only woke up when I saw my two brothers. My dad is the only one who remembers what happened and tells me about it.
My father and one of my brothers are now living in Jeda´ah camp. My father had a stroke. He's old and he's alone a lot of the time in the camp. Life is really hard.
Bushra keeps asking for my mum but there's nothing I can do about it. After Bushra came back from Sulaymaniah she was fine and she was playing. But she could not straighten her leg or do anything with it, and then the wound got infected.
Another NGO referred us this MSF facility. It's been eight days since we've been here. The services are really good. Bushra has had two operations on her knee.
My leg still really hurts to walk on. Yesterday morning, they took x-rays of my leg, and x-rays of all the shrapnel in my hands to see what they can do.
I just want my family to be together again and I don't want anything else to happen.
This is my story. I tell it to anyone who comes to me. Even when the doctors or the organizations come, I talk about it. I like telling my story because it eases my mind and my soul. So when I get stressed and sad, this is what I do."
Bushra, 8
"I'm not going to school right now. I've never been to school. I will go back to school when I heal. I want to learn things and to make friends there. I want to learn so I can read and write.
In Jeda´ah camp, I play with my friends. We play and we draw. I draw toys and flowers and fish, and butterflies and things like that.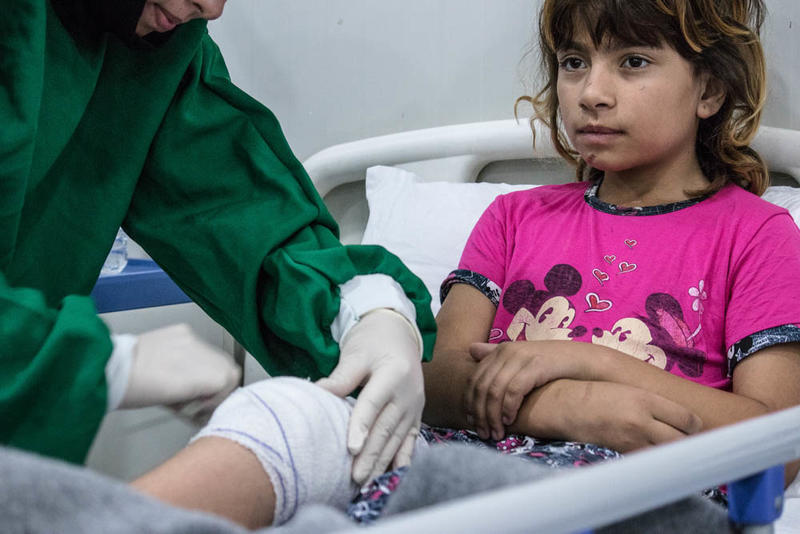 In the camp we go to kindergarten. They bring us note books and we draw and we colour and we write letters there.
In the past, it was fun with all my brothers and sisters. We would play with squares and we would draw with a whiteboard.
I love my sister so much because she takes care of me. I wish my family could all be together again. To heal and to get better and to live together again."
[Many war-wounded patients in Mosul – and in other post-conflict areas in Iraq such as Kirkuk, Anbar and Salaheddin – have endured months of agony waiting for follow-up care. They often received hasty surgery on or behind the frontlines to save their lives, and now they need additional surgery, pain management and physiotherapy to regain use of damaged limbs and muscles and to prevent losing more or all of their movement. Many people are also in need of urgent mental healthcare as they relive the violent trauma of the past and try to cope with the loss of loved ones.]
---
The agony of Mosul's war wounded: "I've had about 15 operations on my leg so far."
Zainab* stepped on an improvised explosive device when she was running through the streets of Mosul trying to flee fighting between the Islamic State (IS) group and the Iraqi forces. Hours later Zainab woke up in a hospital south of Mosul. She had badly broken her leg and had lost a lot of blood. Over the past year, she has suffered immensely as she has tried to access healthcare in Mosul to fix her broken leg. But in this city still recovering from conflict, health facilities for the war-wounded are scarce. Zainab is now receiving treatment in the Médecins Sans Frontières / Doctors Without Borders (MSF) surgery and post-operative care unit in east Mosul. This is Zainab's story:
"I live in west Mosul and I'm 45. I have five daughters and two boys. My oldest daughter is in the last grade of high school and most of the others are in high school as well. But my oldest son doesn't go to school. Before IS (Islamic State group), he was going to school but after they came, he couldn't go anymore and he hasn't gone back since.
When IS came, we had to flee our home and we moved in with my father. He had a two story house. My parents were living on the second floor and we were on the first floor, with nine people in one room. We still live in that room. It's been four years.
Our family became separated when we fled our home on 11 April 2017. I stepped on an IED (Improvised Explosive Device) and I lost consciousness. I woke up in a hospital in Hamman al-Alil (30km south of Mosul). The doctors had to give me blood transfusions. About 19 bags of blood in total. Some of my daughters were also injured with shrapnel.
When I woke up in Hamman al-Alil and I realised I was injured, I accepted the reality. I thought about my family and I worried about what had happened to them. But then, I got the news that my family was fine and I was relieved it was only me.
I stayed for a month and four days (in Hamman al-Alil hospital) and they put an external fixation on my leg. They then transferred me to Al Salam hospital (in east Mosul) but they said they couldn't provide treatment, and from there they took me home (back to her father's house).
When I arrived at home, I didn't have any medication. But a nurse would come and clean the wound and change the dressing. This went on for a while and the wound got better.
Then, I went to another doctor and he said I needed an operation. He took some bone from one leg and put it in my other leg. After the operation my bones started degrading and any minor movement would hurt: I still had a fracture in my leg. I visited a private doctor and from August to September (2017), I saw him regularly. He said I needed another operation because the bone was still fractured and was getting thin.
The private doctor removed the internal plate that was inside and the wound got better and I was moving around on crutches. But then something happened and I snapped the bone. After that, for two months, we went and saw another private doctor. He did a bone replacement operation and internal fixation. It was a four-hour operation. It cost 1 million IQD ($USD 832). A week after the operation, the wound became infected. The infection came from the hospital - it was dirty and filthy. The doctor prescribed drugs but I didn't get any better. Another doctor then referred me to this MSF post-operative care facility.
After I arrived here they operated on me. They said the infection was coming from inside from the internal fixation. My wound started oozing and it was all because of the operation the private doctor did for me. The other bone that was inserted into my leg also got infected. They removed the internal fixture, cleaned the wound and took a sample for testing. When the results came back they prescribed medication.
I've had about 15 operations on my leg so far. When I did the operation with the private doctor I said it was the last operation, I thought it would be finished. But the operation failed and it started to get infected. Then I came here and I've had two operations, and I still have three more operations until it's fixed.
The healthcare situation in Mosul is so bad because all the hospitals are destroyed. Since my injury we haven't visited any public hospitals, only private hospitals.
My injury has changed my whole life and it has made me exhausted and my family exhausted. Each time I have an operation I hope it is the last."
*Name changed to protect her identify.