Khartoum, 4 August 2020 – A temporary COVID-19 treatment centre has opened in Omdurman teaching hospital in the Sudanese capital, Khartoum, managed by international medical organisation Médecins Sans Frontières/Doctors Without Borders (MSF) in partnership with the hospital and the Ministry of Health. The 18-bed centre has the capacity to expand to 40 beds, if needed, and will provide medical care to patients with moderate to severe COVID-19 symptoms.
COVID-19 continues to infect people in Khartoum. With no vaccine yet to protect against the virus, the priority is to slow the spread of COVID-19 by isolating people with symptoms of the disease, and to lower the death rate by providing patients with adequate care.
"Our centre will treat people who have moderate to severe forms of COVID-19 disease, who need to receive oxygen or other appropriate care, but who do not require critical intensive care," says MSF emergency medical advisor Dr Emilie Macher. "The centre will help to decongest designated COVID-19 facilities in the city and allow the Ministry of Health to focus on the treatment of patients in a critical condition."
MSF teams will help manage all aspects of patient care, from screening people at the hospital entrance to providing them with breathing support in the treatment unit. MSF will help to guarantee the safety of patients and health workers by putting in place strict infection prevention and control measures and by training health staff and other frontline workers on preparedness and prevention of the disease to keep them safe and free from infection.
At the same time, MSF will continue to support the emergency room of Omdurman teaching hospital, the largest hospital in Sudan, and work closely with the Ministry of Health to ensure that other essential medical services are available for everybody.
MSF teams will also work with primary healthcare centres and hospitals across Khartoum to strengthen their screening and triage systems, to raise awareness of the virus and to help identify patients early.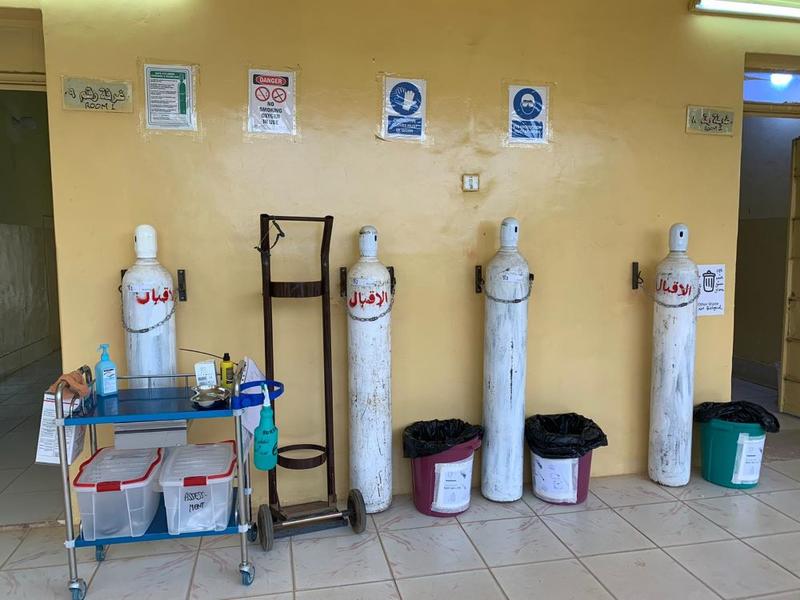 The fear and stigma that surround COVID-19 often prevent people from seeking medical care promptly, making the virus more difficult to treat.
"Most cases of this virus will be mild, but please, if you have breathing difficulties, come sooner rather than later to see us," says Dr Macher. "The earlier that patients come to hospital, the better our chance of treating their symptoms successfully."
People can help to prevent the spread of the virus by using preventive measures such as regular hand-washing, physical distancing and wearing masks in crowded places or when physical distancing is unfeasible. These measures are known to work.
Since the first cases of COVID-19 were confirmed in Sudan, MSF has been providing support to the Ministry of Health to help reduce the spread of the disease. MSF is also running regular medical projects in Khartoum, Central and East Darfur, White Nile and South Kordofan states. MSF teams are committed to continue providing emergency lifesaving assistance to the Sudanese population in the midst of the COVID-19 pandemic.
Médecins Sans Frontières/Doctors Without Borders (MSF) is a private international association. The association is made up of former and current MSF staff including doctors, nurses, healthcare workers and non-medical staff. MSF provides medical and humanitarian assistance to people in distress, victims of natural or manmade disasters and victims of armed conflict, irrespective of their race, religion, gender, creed or political convictions.
For further information about COVID-19 and MSF's response and medical support worldwide, please visit https://www.msf.org/covid-19