West Darfur: Testimony by Emily Wambugu, MSF Project Medical Referent working in El Geneina Teaching Hospital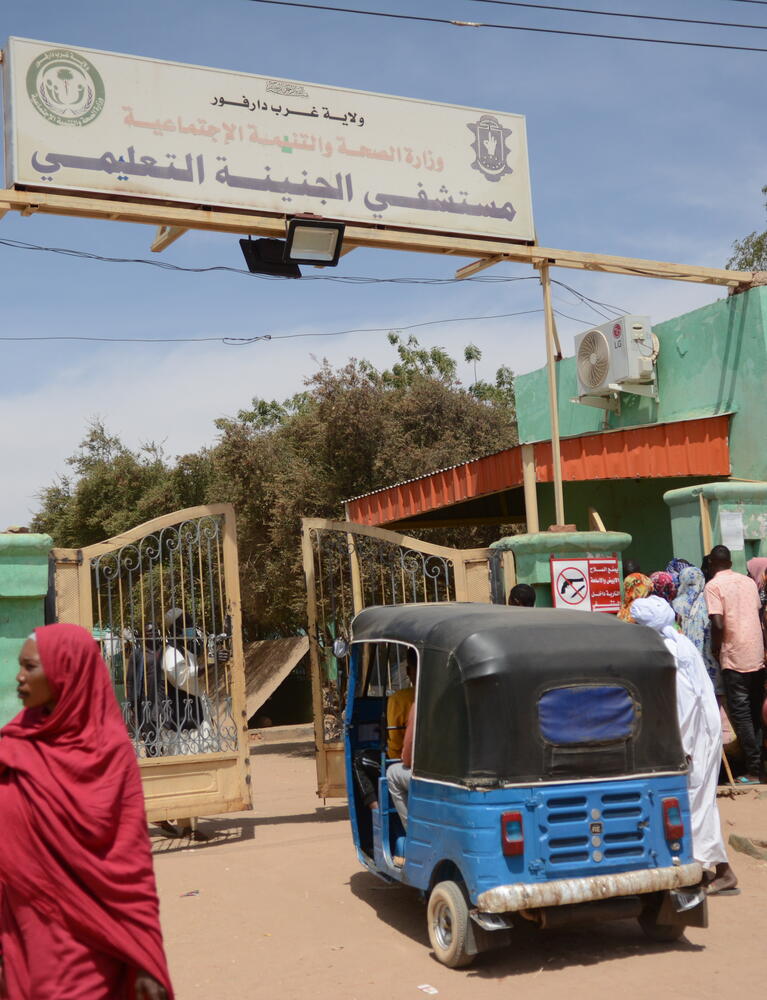 MSF
Emily Wambugu was in the Teaching Hospital, supported by MSF, when the fighting started in El Geneina, the capital of West Darfur. The MSF team was evacuated before violent incursion took place.
Before the attack of El Geneina city on 24th of April the city was generally in tension after the conflicts that have happened few days earlier in the nearby communities.
On that day we were very busy [in El Geneina Teaching Hospital] as it was first day of the week and we normally have a major doctors ward round. The inpatient department was full of patients admitted and OPD [outpatient department] and triage area was full of patients, approximately 200 patients that were waiting for consultations.
As I was in doctors ward round, we started hearing some gunshots, but since they were a bit far we didn't understand where they were coming from but within a very short time we heard that gunshots were coming closer. It was not easy for us because we could not understand what was happening. Within a very short time I received a call from our field coordinator Mr Hisham, who asked me to coordinate the team as we are to be evacuated.
As we were coming from the hospital to the guest house, we felt tense as the city was full of people: children coming from school and other people, cars, and everyone trying to run for their lives. It felt very tense, but we managed to arrive into the guest house.
I tried calling all around and trying to see where our staff were to understand if they were all safe and I really felt pain when I learned that everyone has run away from the hospital. And even the mothers who had their children on oxygen had all disappeared. I felt pain imagining how many children will die that day due to lack of oxygen and treatment as they had all left the hospital.
Later at around 16.30 one of the nutrition assistants called me, telling me that he had come for the night shift and there are still patients in the hospital and in ITFC [Inpatient Therapeutic Feeding Centre] there were 16 patients, in total in paediatric department there were 30 patients. With good luck other staff came for the night shift, there were total 6 staff and one MSF doctor. They said they will take care of the patients that were around, and they put patients that were supposed to be on oxygen on oxygen and gave the treatment that night. At around 20:30 there was heavy shooting, I tried to call to know what is happening, they told me they were all on the ground because there was heavy shooting outside of the hospital and in few seconds, they said the hospital had been attacked. After that they were asked by the military [security] not to have any movement, but to close the ward behind and nobody to move from the ward, as it was not safe for them.
On the 25th of April it was the heaviest day with a lot of shooting around that started 06:45 AM, and most of the mothers had come back decided to leave the hospital as there was no options, as all the staff had also run away. The only people that were left in the hospital were 4 mothers whose children were on oxygen as it was reported they decided to stay in the hospital and whatever would happen they wouldn't remove their children again from the oxygen.
The situation in El Geneina is not promising at this time, currently we are still in the guest house [26th of April], it is not easy for us as we can still hear the sporadic shooting here and there. And for sure its stressing because when you think about the hospital and all the number of lives, we have been saving every day, very desperate children coming for hospitalisation, and now we are not able to manage anyone of them. It's not easy for us, but there is nothing we can do as we still feel it is not safe to move out and move to the hospital.