Fatima* spoke to MSF about why she had to flee her home in Iraq, and how living in Moria camp has caused her daughter to become suicidal.
I had to leave Iraq and escape to Turkey with my four daughters, because my husband was beating me and my children. He broke my shoulder. He was abusing us in ways you can't imagine.
He wanted the girls to get married. He beat us, and he stopped the girls from going to school. He ripped off their fingernails so they couldn't go.
We got on a plane to Turkey to escape, but a friend of mine told me that my family and husband were looking for me, so we had to keep moving. We finally crossed the sea, and made it to Lesvos, Greece, where we were put in a tent. After a while I got sick, so they put me in a container, with eight other families. There are 28 of us sharing this container now. The container is very small and noisy, and we cannot clean ourselves properly because we don't have enough cleaning materials. We are not treated well in the camp and get malnourished because we don't get enough food - the girls are often fainting because they don't eat enough.
There is no protection for us here in the camp. Four weeks ago, a man attacked my eldest daughter - she is just 17 years old. The Police saw this but nothing happened. I've asked many times to the UNHCR and the camp management to take me out of this camp, but they haven't done so. Since we've been here we haven't found protection. There are no schools for the girls, we've found nothing. Is this Europe that we came to?
We live in fear here, we don't feel safe. My youngest daughter, just 15 years old, always has a knife with her, she says she will hurt herself and she cries a lot. She also has bad violent fights with her sister, but this only started happening since we have been here in Moria.
She is now always like this since we've been here. She doesn't speak a lot and she is very violent. She gets angry very easily. She doesn't even want to speak to us.
After the first 10 days in Moria, she swallowed a pack of pills. She had had a fight with her sister and thought, 'we were beaten in Iraq and we came here to find the same situation. Who is going to protect us?'
Twice I found a knife under her pillow. She is afraid of the situation in the camp. When I leave her alone, I always see her with the head facing down and crying, always.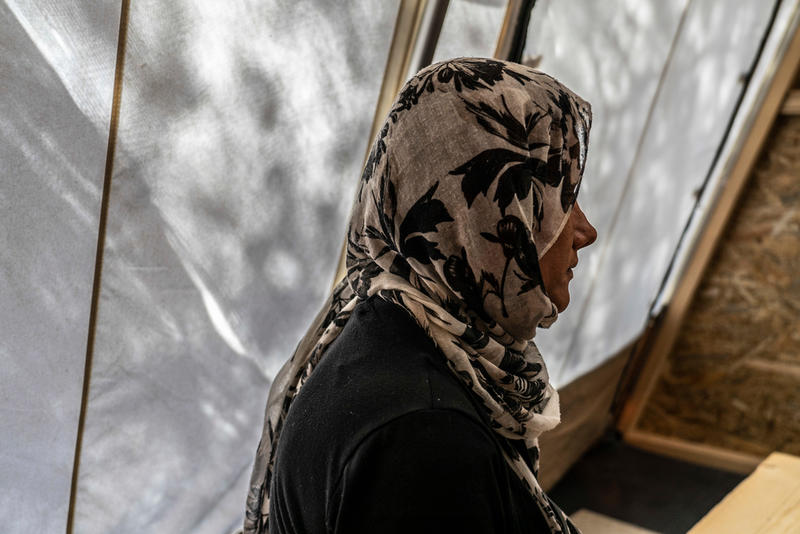 I was expecting everything to be nice but we found nothing. There is no safety, no protection, no education.
Since arriving on the island, I have no hope anymore. We came for a better future and we found no protection, no safety, so what future should I see for my daughters? We remember our situation in Iraq and we see the same situation here. I'm very tired. Our next interview for asylum is next year in February. I cannot stay here until February. Sometimes I even think to end my life.
*Name changed to protect the identity of patient.