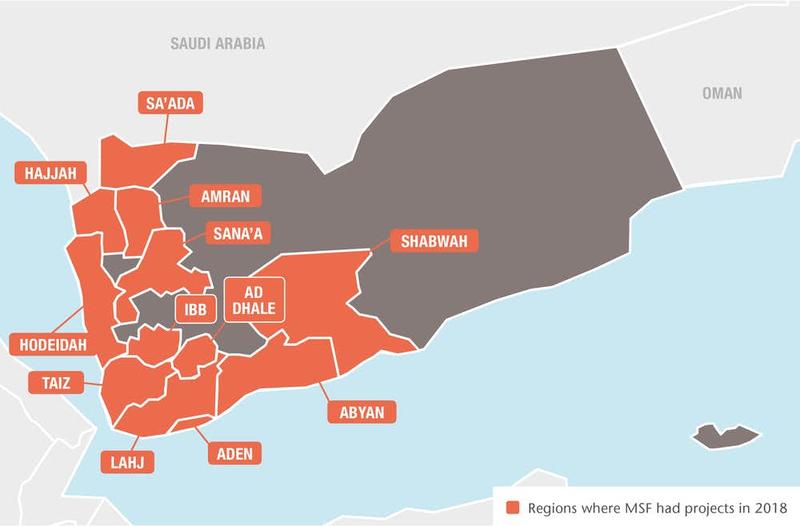 After four years of war, the Yemeni health system is in ruins. The conflict escalated throughout 2018, with fast-changing frontlines and attacks against civilians across the country.
MSF's activities in Yemen in 2018
Médecins Sans Frontières (MSF) worked in 13 hospitals and health centres and provided support to more than 20 health facilities across 12 governorates in Yemen in 2018. However, repeated attacks on medical staff and structures during the year forced us to suspend activities in several areas.
Insecurity and access constraints also prevented us – and other organisations – from collecting reliable data on the nutritional and humanitarian needs across the country. Our teams treated 5,700 children for malnutrition in inpatient and outpatient programmes across Hajjah, Sa'ada, Amran, Ibb and Taiz governorates, but saw no signs of impending famine – contrary to what the UN and others were suggesting.
The number of war-related deaths, and therefore the scale of the war, was also misrepresented in 2018, when the official number of war-related deaths remained 10,000 – unchanged since 2016. This has since been countered with a more realistic, but still conservative, estimate of 60,000. Over 119,000 people with injuries related to war and violence were treated in MSF and MSF-supported facilities between March 2015 and December 2018.
Medical and surgical care on the Hodeidah frontline
On 13 June 2018, an offensive was launched by the Saudi and Emirati-led coalition (SELC)-backed forces loyal to President Hadi to seize Hodeidah from Ansar Allah troops. In response to the intense fighting along this frontline over the following three months, we opened a surgical hospital in Mocha in August and performed almost 1,300 major surgical interventions by the end of the year. As well as patients with war wounds, we received pregnant women with complications requiring urgent surgery. Referrals are made to our trauma centre in Aden, where MSF teams performed more than 5,400 major surgical interventions, 90 per cent of them violence-related, in 2018.
Following failed peace talks, a new offensive on Hodeidah began in mid-September. Daily clashes partially blocked the main Hodeidah–Sana'a road and raised fears of a siege around the city. In September, we started providing emergency medical and surgical care at Al Salakhana hospital, northeast of the city, after rehabilitating the emergency room and operating theatres. By early November, as fighting intensified further still, Al Salakhana was one of only three operational public hospitals in the area.
At the same time, we began rehabilitating and providing donations and technical support to other hospitals in the governorate, at Al Udayn, Far Al Udayn and Ad Dahi, as fighting displaced huge numbers of people and cut off their access to healthcare.
In mid-December, the warring parties agreed to a ceasefire. The Stockholm Agreement included a prisoner swap, the creation of a demilitarised zone around Hodeidah and the withdrawal of Ansar Allah troops. A committee was also set up to discuss the future of the city of Taiz, which, after four years, is still divided by frontlines and is a grim example of the urgent need for more medical aid.
Attacks on civilians, medical staff and facilities
According to the independent monitoring group Yemen Data Project, 17,729 civilians were injured or killed in SELC air raids between 2015 and 2018 inclusive, with Sa'ada the worst-affected governorate in 2018: it was targeted by 1,306 air raids – 39 per cent of all recorded air raids and more than in any other year since 2015. Our teams continued to work in Haydan hospital in Sa'ada, which has now been fully rebuilt after being destroyed by an SELC airstrike in 2015.
On 11 June, an MSF cholera treatment centre was bombed in Abs, Hajja governorate – less than two years after Abs hospital was bombed, resulting in 19 deaths and 24 injuries. This was the sixth time an MSF facility has been hit by the warring parties since 2015.
In addition, we were forced to close our projects in Ad Dhale governorate after our staff house was targeted with explosives twice in less than a week in November. Our teams had been working in Ad Dhale since 2012, supporting the health facilities in Ad Dhale, Qataba, Al Azariq and Damt districts to treat more than 400,000 patients. In late December, we also ended our support for Razeh hospital, in Sa'ada governorate, due to its proximity to the frontline and the high level of risk to patients and staff.
The most critical gaps in medical care
The Yemeni health system is in ruins across the whole country, but most evidently in the northern governorates, where SELC airstrikes intensified at the end of 2017 and into 2018.
Many medical staff have left because their salaries have not been paid since August 2016, and few hospitals are still functional. Yemenis struggle to access and afford basic commodities such as fuel, food and medicine because of a deteriorated economy, and the commercial closure of Sana'a airport has prevented people from seeking treatment abroad.
In response to the vast gap in services for women and children in particular, MSF teams provided maternal and paediatric healthcare in Ad Dhale, Amran, Hajjah, Ibb and Taiz governorates in 2018.
On the western coast, one of the biggest medical issues in 2018 remained the lack of surgical capacity.
In the 450-kilometre stretch between Hodeidah and Aden, a six to eight-hour drive, the MSF hospital in Mocha is the only facility with an operating theatre serving the local population. Between August and December 2018, our teams in Mocha treated more than 150 people wounded by landmines, improvised explosive devices and unexploded ordnance. A third of them were children who had been playing in fields. In September, a Conflict Armament Research report pointed to Ansar Allah's large-scale mass production of mines and improvised explosive devices, as well as its use of anti-personnel, vehicle and naval mines.
Outbreaks of disease
We treated much fewer cholera cases than in 2017, but with conditions ripe for new waves of the disease, the threat remained. We opened a new cholera treatment centre to deal with an increase in confirmed and suspected cases in Ibb in late 2018.
In 2018, MSF teams continued to see cases of diphtheria across Yemen, and treated 570 patients in Abs, Ad Dhale, Ibb and Taiz. Measles is also a concern, especially in Sa'ada, Hajjah and Amran governorates. In 2018, MSF teams treated 1,981 cases. Immunisation remains a huge challenge: mass vaccination campaigns were delayed on numerous occasions and hampered by access constraints, especially in remote regions, and by a lack of authorisation in some areas.
Find out more in our 2018 International Activity Report
1,600
national and expatriate personnel
2,656
Medical equipment, materials and drugs shipped (in tons)
> 110 million
Euro
Budget for 2015 and 2016