Within the framework of its principles, Médecins Sans Frontières/Doctors Without Borders (MSF) recognizes that diversity, equity, and inclusion are an intrinsic part of its social mission to offer humanitarian medical care to people regardless of who they are or where they live.
Olga Sabonete and Valério Matos are both MSF staff who have seen in these principles and values an opportunity to challenge social paradigms and gender labels, excelling in roles stereotypically associated with one gender.
Olga is from the Nampula province in northern Mozambique and has worked with MSF since the beginning of 2022, as part of MSF's Planetary Health project in her province. She is the only  woman working as a guard in the project, a job generally dominated by men. A determined mother, she has set out to prove women can work in this field.
She recounts that out of the 14 pre-screened candidates for the guard position, only two were women. "When they called to inform me I had been selected for the role of guard, I jumped with joy and satisfaction because it was what I had wanted the most. It wasn't easy," says Olga.
In her daily work, Olga is responsible for implementing safety guidelines for the staff and assets. She records all movements of staff and goods between the warehouse, office and medical sites.
"I am thrilled to work for MSF because I have had the opportunity to learn many things and interact with people from different corners of the world, each with unique cultures, who are always willing to share a bit about their backgrounds," she says. "One of the things that impresses me the most is the mutual respect among the staff, which is like the hallmark of the work environment within the project," she adds.
Olga says through her own efforts and discipline, she has earned respect and admiration from her coworkers.
The eldest of seven siblings, she once dreamed of becoming a nurse. While this dream has not yet materialized due to financial constraints –  her family relied on small-scale farming and the sale of surplus as the main livelihood – Olga has shifted her strategy. She is now championing the dream of her eldest child, who is currently pursuing a degree in general medicine in Mozambique.
Valério Matos is another MSF staff defying stereotypes. He works as a cleaner, a profession generally dominated by women in his town.
Also from Nampula, the base of MSF Planetary Health project, Valério  acknowledges many people still associate cleaning duties solely with women, leading to an underestimation of men in this line of work.
Valério says he has developed a passion for his job, even though it may be seen as an invisible role.
"I enjoy my work because through it, I create a welcoming environment for everyone to carry out their tasks," he says.
"Typically, I'm the first one to arrive at the office. As soon as I arrive, my first task is to prepare the necessary conditions for the teams to head out to the field, ensuring they at least have their coffee," Valério says.
Growing up with his eight brothers and one sister, Valério faced financial constraints due to the death of his father when he was just 17 years old. "Because of this, I had to take up odd jobs at times just to have something to eat before going to school, and I often arrived late for class due to these jobs," he recalls.
These financial restrictions temporarily postponed his dream of graduating in civil engineering. "My dream hasn't died; I just need an opportunity," Valério says.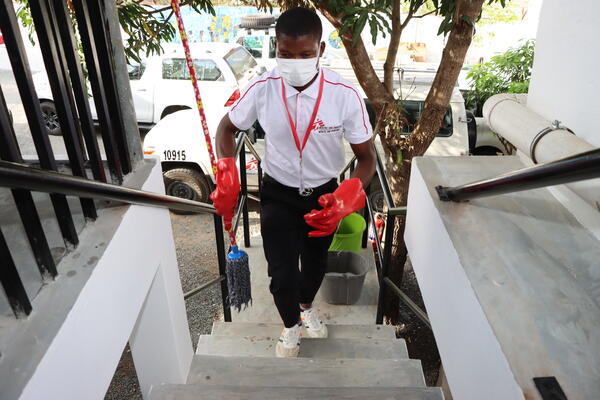 Mozambique ranks among the countries that are most vulnerable to climate change. Since 2022, MSF teams have been actively responding to climate-sensitive diseases in the Nampula province of Mozambique. The primary objective of our activities is to address the gaps in the healthcare system, in relation to neglected tropical diseases such as lymphatic filariasis and schistosomiasis, as well as vector-borne diseases like severe malaria and dengue.