11,000 refugees face eviction in Greece.
While thousands of people remain trapped on the Greek islands...
A silent injustice continues on the Greek mainland...
After fleeing war and violence, many people are now sleeping rough, or in precarious conditions...
Meanwhile, an amendment to the Asylum law means recognised refugees have just 30 days to integrate into society without cash assistance or support.
Instead of rebuilding their lives, vulnerable people face eviction and sleeping on the streets.
All during a global pandemic...
Many of them are our patients...
Osama lives in Vathy camp with his wife and two children. After they received refugee status, they were evicted from supported accommodation in Greece and forced to sleep on the streets. Osama and his family had no choice but to head to a camp on the island of Samos, where they now live in a makeshift tent, cut off from cash assistance, food, healthcare or any other support. This is their story…
"I'm originally from Palestine, but I was raised in Syria. When the war broke out in Syria, I was living with my family in a refugee camp just outside Damascus. In 2012, they started to bomb the camp and by 2014 it was completely besieged by government forces. We were living like animals; we had no food. I was afraid for my family's safety, but I didn't want to join the war. I didn't want to fight and kill people.
قصة اللاجىء الفلسطيني أسامة تختصر كل معاناة اللجوء.. من سوريا، الملجأ الأول، إلى الظروف الصعبة بمخيمات لبنان إلى تركيا حيث تعرض للعنصرية بسبب لون بشرته.
ليركب بعدها البحر مع زوجته الحامل وابنه المصاب بالتلاسيميا نحو مخيمات اللجوء باليونان حيث تنقّل من الملجأ للشارع إلى ملجأ آخر. pic.twitter.com/oNcDdXbxwm

— AJ+ عربي (@ajplusarabi) December 4, 2020
We escaped to Lebanon and spent two years in a refugee camp in Beirut. But life there was virtually impossible; there was no work for me to support my family. My son suffers from thalassemia and we couldn't afford to get him the healthcare he needed.
In 2017, we decided to move again, this time to Turkey, where we lived for a year in a room on the roof of a building, but life there was impossible. The racism I suffered was terrible in Turkey. Because of the colour of my skin, I couldn't support my family there, there was no work, and my son couldn't get the care he needs. We realised we had to try to get to Europe. We tried so many times in so many places, but nowhere was safe. There was no chance for us to live in peace.
In 2018, we took a boat across the Aegean Sea; my pregnant wife and my boy, with 55 other people. It was terrifying; we didn't think we would survive. Thank god, we made it to Chios island alive. We stayed in the camp there for four months and life was awful. My wife was helped by MSF midwives, and she saw an MSF psychologist to help her deal with all the trauma we had faced. It was a hard time and we were extremely concerned about the health of our son, as he couldn't be treated on the island.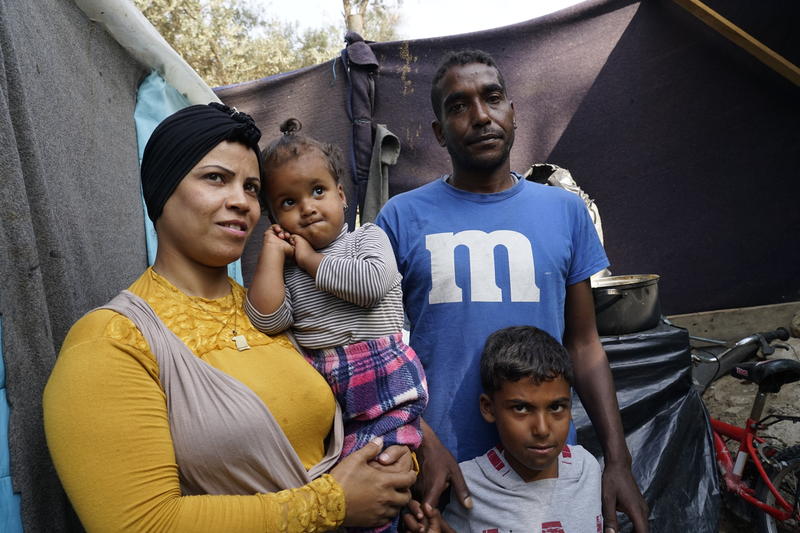 Finally, we were moved to a hotel on the mainland, in a town called Grevena in northern Greece, where we could get treatment for my son's thalassemia. After some time, my baby girl was born in the local hospital there. But once we received refugee status, in July 2020, we were told we had to leave, that we were being evicted. After receiving refugee status, refugees are given 30 days' notice to leave their accommodation, according to the new Greek law. We had nowhere to go. We found ourselves on the streets with nothing. No money, no food, no shelter.
After sleeping on the streets for four days, I had no choice but to take my family to Vathy camp on Samos island. I had a friend who offered me his tent. So here we are again. The situation is awful. We live with giant rats in dirt and rubbish, with no idea what will happen next. We don't have cash assistance; we don't have access to food. We live on what other people in the camp share with us. My son still cannot get the care he needs for his condition. He is often very tired and weak; his ears are swollen and he has nose bleeds very often.
All I want is to live with some dignity. I just want to give my children a chance of a better life, for them to be healthy and to go to school. I want to learn languages and I want to work to support them, but I need some support too. I just need a chance, a chance to build a future for my family."