Throughout 2017, MSF has been responding to the emergency medical needs of people affected by conflict in Mosul and elsewhere in Iraq.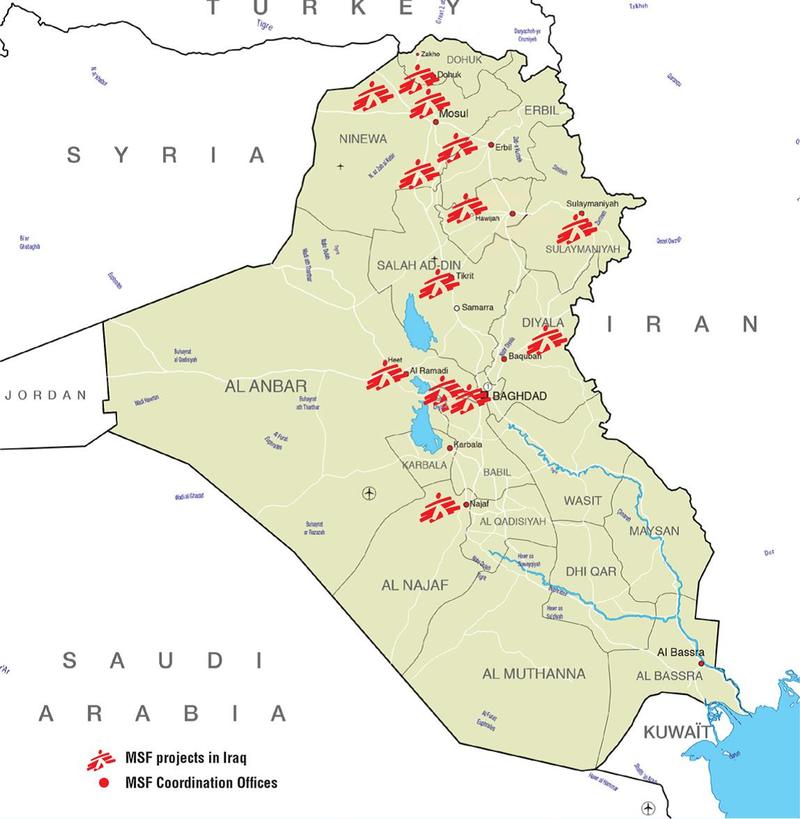 Médecins Sans Frontières (MSF) is an international, independent, medical humanitarian organisation that delivers emergency aid to people affected by armed conflict, epidemics, natural disasters and exclusion from healthcare. MSF offers assistance to people based on need, irrespective of race, religion, gender or political affiliation. MSF does not accept funding from any government, religious committee or international agency for its programmes in Iraq, and relies solely on private donations from the general public around the world.
Throughout 2017, MSF has been responding to the emergency medical needs of people affected by conflict in Mosul and elsewhere in Iraq. Teams have provided services including emergency surgical and trauma stabilization, post-operative and rehabilitative care, therapeutic feeding for malnourished infants, maternal care, mental health services, treatment of non-communicable diseases as well as emergency room, inpatient and outpatient medical services.
MSF has continued to expand its medical services for vulnerable populations in central and southern Iraq as well. MSF has worked intermittently in Iraq since 1991 and since 2006 it has been continuously expanding its medical humanitarian activities across the country to provide urgent assistance to vulnerable populations.
Currently, MSF provides medical assistance across 10 governorates in Iraq, reaching over 130,000 patients so far in 2017 and employing more than 1750 Iraqi staff and 225 international staff.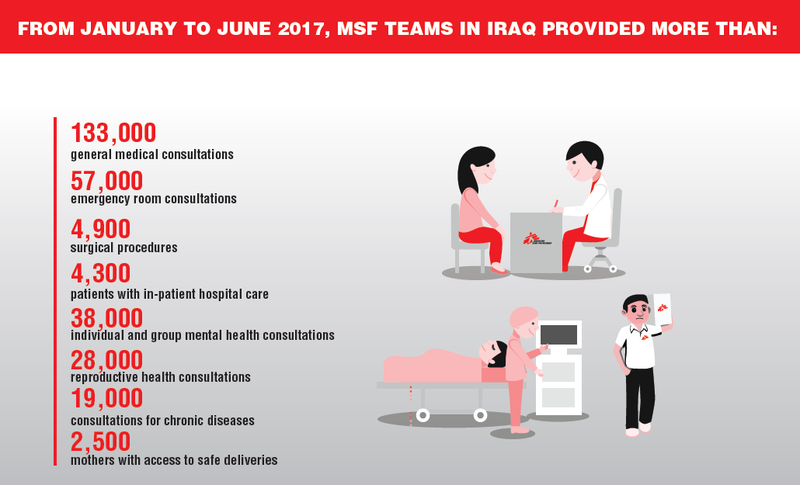 MSF ACTIVITIES IN IRAQ
Nineveh
Throughout 2017, MSF has been responding to the emergency medical needs arising from conflict in Mosul and elsewhere in Nineveh. In Mosul, MSF teams have provided emergency trauma and surgical services with five advanced medical posts and four MSF hospitals in the city and surrounding neighbourhoods throughout different periods in the conflict.
Outside Mosul, MSF also opened trauma hospitals along the main transit and referral routes to provide critically-needed trauma care in Hammam al-Alil and Qayyarrah. Cumulatively, thousands of patients were provided with urgent trauma-related assistance and first-line surgeries. However, these numbers represent a small fraction of the population who suffered from conflict and in some cases MSF projects were only been able to provide assistance intermittently or for short periods of time due to the challenging security environment.
At the same time, MSF expanded capacity to address other unmet medical needs in Nineveh. In Hamdaniya and Al Taheel, MSF opened post-operative and rehabilitative projects to help patients recover from war-wound and other trauma injuries. For malnourished children, MSF opened therapeutic feeding programs in Qayyarrah and surrounding displaced persons camps and in Hammam Al-Alil.
MSF provided maternal care in Karama as well as in its west Mosul hospital. In al Khansaa Teaching Hospital, MSF supported the emergency, medical paediatric and therapeutic feeding programmes as well as rehabilitating heavily damaged wards and providing urgently-needed supplies and medicines.
In Zummar, MSF continued to provide its maternal and paediatric programmes as well as mobile clinics for the surrounding populations. Throughout many of MSF`s medical programmes in Nineveh, mental health and counselling services have been provided to patients who have endured immense hardships.
Throughout 2017 so far, some MSF projects in Nineveh have been closed or handed over to other medical actors as new project locations have been opened or expanded in order to remain responsive to the changing medical needs of the population.
Erbil
MSF mobile teams are continuing to provide treatment for chronic diseases and mental health services for displaced population living in camps West of Erbil, which saw a major increase in population during the conflict in Mosul, as well as host communities.
The MSF program provides services in nine locations, including camp and host community settings. Activities include treatment of chronic diseases, psychological and psychiatric consultations, group therapy, psychosocial counselling and child therapy.
Dohuk
In the Domiz 1 refugee camp for Syrian refugees, MSF is running a maternity unit where women can deliver their babies safely and access reproductive healthcare.
Salah Al-Din
In response to growing medical needs, MSF started running mobile clinics in the city of Tikrit and the surrounding areas in June 2016 as thousands of Iraqis fled ongoing conflict. In January 2017 MSF established a primary healthcare centre in one of the camps. The MSF team is currently providing primary medical care, treatment for chronic diseases and mental health services to the population.
Kirkuk
MSF teams are providing medical and mental health services to people displaced from Hawija. This includes a clinic in Daquq IDP Camp for non-communicable diseases, mental health and primary healthcare. MSF also provides mobile clinics for newly-displaced populations at Maktab Khalid entry point and at Debes screening site.
In addition, MSF supports the emergency departments of the two main hospitals in Kirkuk with donations of medical equipment and supplies and high-quality on the job training including for mass casualty response and preparedness.
Sulaymaniyah
MSF continues to provide training to staff working in the intensive care and emergency trauma units in the Sulaymaniyah emergency hospital to enhance the level of care for patients. MSF has rehabilitated the facilities in both units, which are now fully functional with improved layout and patient flow.
Since 2015, MSF has also been working in internally displaced people (IDP) camps in the governorate. The teams conduct health promotion activities and provide psychological and psychosocial care.
Diyala
MSF continues to provide medical consultations, health promotion and mental health consultations for displaced populations in three IDP camps in Khanaqin district. MSF also supports the primary healthcare clinics in Sadiya and Jalawla towns, focusing on chronic diseases, sexual and reproductive health, maternity, mental health and health promotion activities for the population returning to these locations.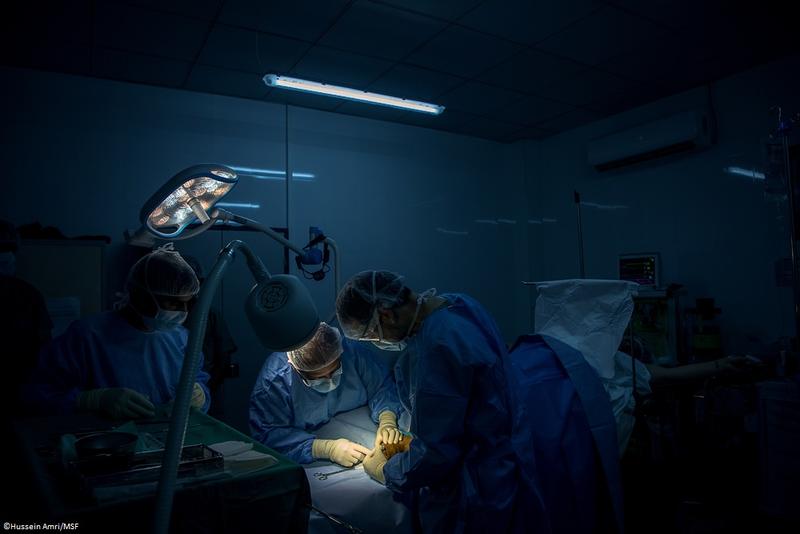 Anbar
MSF continues to provide a healthcare centre in Amariyat which provides primary healthcare consultations, emergency care, inpatient care, mental health, as well as stabilization and referral services. MSF also provides mobile clinics for populations in Habbaniyah, Khaldiya and Ramadi for internally displaced populations from Fallujah and Ramadi.
Baghdad
MSF is handing over its Abu Ghraib project to local health authorities who will continue to provide medical assistance to the population. In Abu Ghraib, MSF has provided medical and mental health services to people displaced from central Iraq as well as mobile clinics to impoverished neighbourhoods. In 2017, MSF has provided over 12,700 consultations, more than 2,300 consultations for NCDs and over 450 mental health consultations.
Babylon
In May 2017, MSF started fully supporting the Ibn Saif Paediatric Hospital located in Musayib. MSF is building capacity in hospital through staff training and the provision of new technologies, such as Tele-Medicine. MSF has also provided important rehabilitations within the hospital, such as the construction of a new pharmacy.
MSF is also providing medicines to the hospital and has worked with the Ministry of Health to eliminate cost-recovery programs at the hospital, allowing patients to receive healthcare for free.
Throughout the country
Since August 2006, a network of Iraqi doctors has been referring victims of violence from all over Iraq to MSF's reconstructive surgery hospital in Amman, Jordan. The surgical team specialises in highly complex surgery requiring multiple stages of treatment as well as physiotherapy and psychosocial support. Since the start of the project more than 2,560 Iraqi patients have been referred and treated in Amman.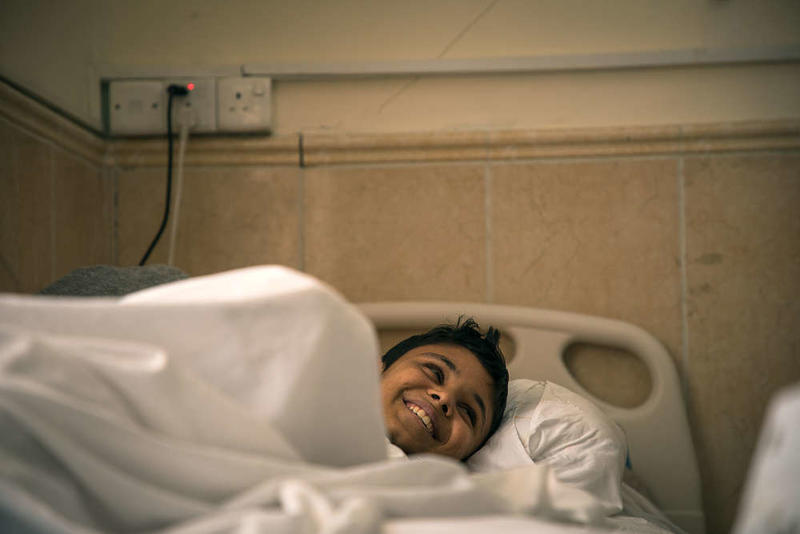 Twitter: @MSF_Iraq