30 January, Dubai – For the first time in the UAE, Médecins Sans Frontières/ Doctors Without Borders (MSF), in collaboration with the Pakistan Dubai Association, will hold an exhibition entitled "Pakistan Behind the Headlines" that will highlight the health challenges faced by people living in Federally Administered Tribal Areas (FATA).
Through first-hand experiences, the photos capture moments in the lives of women, men and children who feel like the "forgotten people of Pakistan," after being forced to flee violence, lose their homes and face extreme hardship.
The images were captured by British Pakistani photographer Sa'adia Khan between 2014 and 2017, as she travelled to MSF projects in FATA, Balochistan, Sindh and Khyber Pakhtunkhwa, meeting the patients being treated by MSF
During the event, there will be a Conversation with both Khan and Thomas Balivet, the Country Representative at MSF Pakistan.
"The purpose of the exhibition is to show that beyond the headlines of insecurity and violence in Pakistan, are real people trying to carry on ordinary daily life,"
"The exhibition celebrates their resilience and courage, while highlighting the difficulties they face in accessing basic needs such as healthcare," he added
Balivet also voiced MSF's commitment to provide quality healthcare to the people of Pakistan in the high-need areas: "We work closely with health authorities in the country to address some of the key medical problems faced by the people."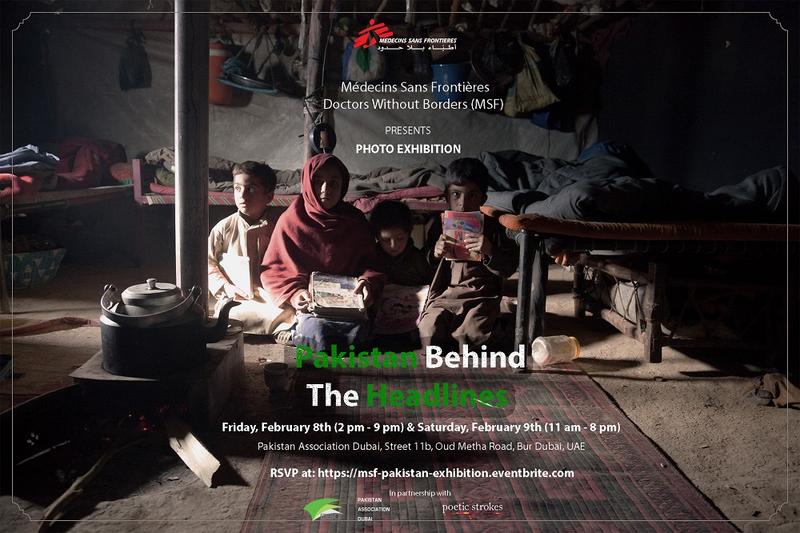 Commenting on the exhibition, Pakistan Association Dubai president Dr. Faisel Ikram commended MSF's medical response in the FATA region.
"MSF has been doing amazing work in the field of healthcare throughout the world. They have reached out to the FATA, which is not an easy path to access. We are extremely delighted to be a part of the photographic exhibition, which speaks volumes of their commitment towards community service,"​
Ayesha Imtiaz, the founder of Poetic Strokes – a Dubai-based art platform that has partnered with MSF for the event – said the images in the exhibition remind her of the "resilience and perseverance of my country."
Imtiaz added:
"Our endurance towards adversity has helped bring the community together, to work towards empowering our people and improving facilities. I thank MSF for doing such commendable work in these remote areas of Pakistan. A lot has to be done and slowly with each other's help we will be able to move forward towards a healthier world."
MSF continues to work in other areas of Pakistan outside FATA, including Balochistan, Khyber
Pakhtunkhwa and Karachi's Machar Colony slum. In 2018, MSF opened a fourth project to treat patients with Cutaneous Leishmaniasis – an endemic yet neglected disease affecting rural areas – in Peshawar, after Quetta and Kuchlak.
The 34-photo exhibition, previously held in Peshawar, Islamabad, Lahore and Karachi, will be on show at the Pakistan Association Dubai from 8-9 February 2019.