It's been one year since over
700,000

Rohingya refugees were forced to flee from Myanmar into Bangladesh. We take a look back at how this crisis has unfolded.
AUGUST

2017

In just two weeks from 25 August 2017, at least 146,000 Rohingya flee to Bangladesh from Rakhine State in Myanmar following an escalation in violence through the Myanmar Army's 'clearance operations' against the Rohingya people. The wave of refugees adds to the hundreds of thousands of Rohingya who fled across the border in previous years. Most of the newly arrived refugees move into makeshift settlements without adequate access to shelter, food, clean water, or latrines.
SEPTEMBER

2017

By mid-September, MSF teams are seeing streams of people arriving destitute and extremely traumatised. Many of the arrivals have serious medical needs, such as violence-related injuries, severely infected wounds, and advanced obstetric complications.
OCTOBER

2017

Rohingya refugees continue to flee Myanmar and can be seen on the Naf River waiting for permission to continue their journey into Bangladesh. By October, over 536,000 refugees have arrived in a severely congested camp in Cox's Bazar.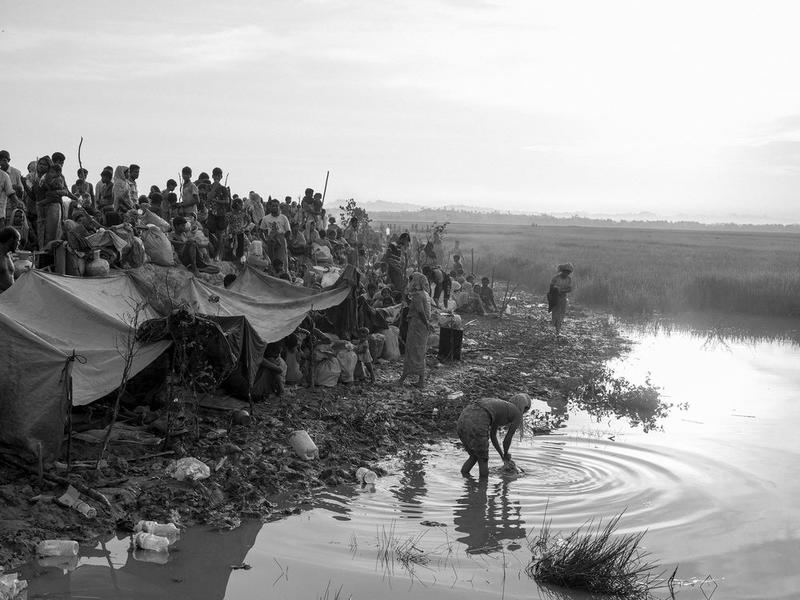 NOVEMBER

2017

By November, MSF has treated more than 62,000 patients for respiratory tract infections, diarrhoeal diseases and infant malnutrition in Cox's Bazar. Illnesses are directly linked to poor living conditions, and lack of access to adequate water and sanitation.

In just three months, MSF substantially expanded its capacity: increasing bed capacity from 50 to 70 beds in the existing Kutupalong clinic; and opening a second inpatient facility in Balukhali, plus 15 health posts and two mobile clinics to help address the primary healthcare needs of the population.
DECEMBER

2017

In December, MSF releases findings from mortality surveys conducted in the Bangladesh refugee settlements. The surveys estimate that in the first month of violence, 6,700 Rohingya, including at least 730 children below the age of five, were killed in Rakhine State, Myanmar. According to MSF, this is a conservative estimation and it is likely the true number is well over 10,000.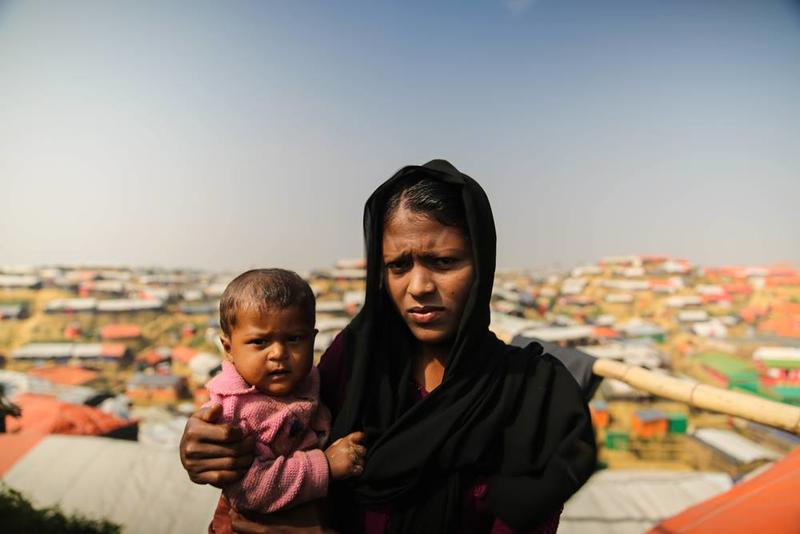 JANUARY

2018

By January, MSF describes the precarious situation as an acute emergency with huge humanitarian needs. Given the dense population and poor water and sanitation conditions, the risk of people falling ill is high. Rohingya refugees had little or no access to routine healthcare including vaccinations in Myanmar. In response, MSF administers immunisation for measles and rubella, oral polio, Pneumococcal conjugate vaccine (PCV), pentavalent vaccine and tetanus according to national protocols. MSF also administers the diphtheria antitoxin in response to an outbreak.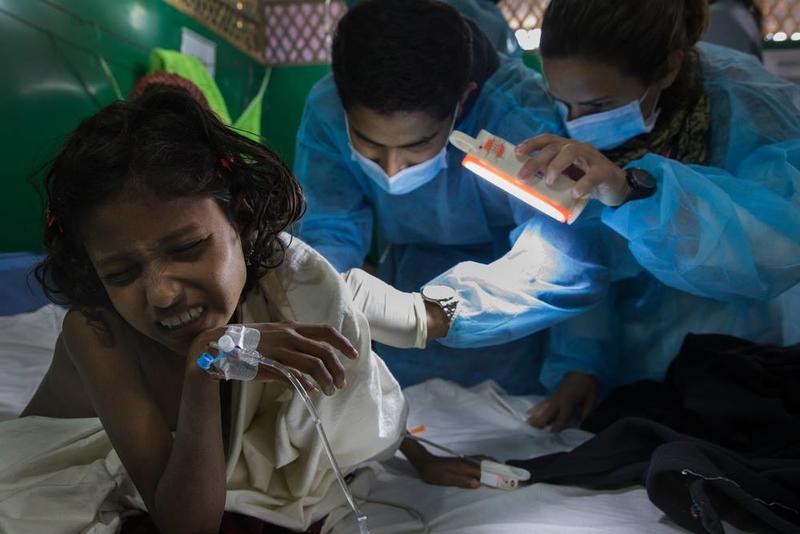 FEBRUARY

2018

In six months, almost 700,000 Rohingya refugees have arrived in Bangladesh. MSF significantly increases operations, employing over 2,000 national and international staff on the ground in response.

Staff hear from patients like Humaira who continue to face hardship since fleeing Myanmar. When Humaira lost her husband, she decided to flee with her seven-year-old son, despite being heavily pregnant. She went into labour during the journey, and sought care for her malnourished daughter at MSF's healthcare centre in Jamtoli.
MARCH

2018

The crisis is not over: people are still fleeing from Myanmar to Bangladesh, fearing for their lives and seeking safety. A few hundred people continue to arrive in Bangladesh every week. The newly arrived refugees say they feel unsafe, threatened and harassed at home, in villages that are often abandoned; they try to sell their goods in any way they can in order to board a boat.

Subi crossed the border on 7 March: "My husband was killed, and my daughter's husband disappeared. Many people have been killed or are lost. I hope all of this will finish one day but I can't tell what the future holds. Like many others, we were obliged to abandon our villages, our houses, our land, our animals… I feel exhausted and unable to walk. I haven't eaten for three days. It's very hard."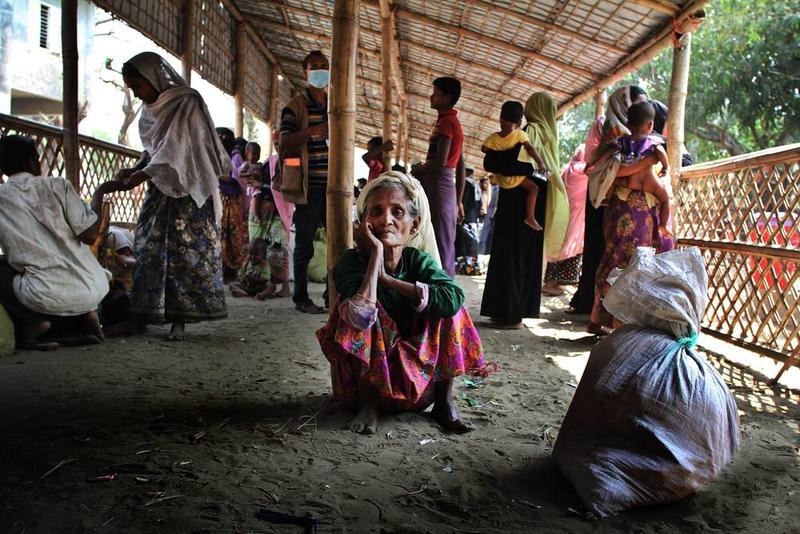 APRIL

2018

MSF opens a new hospital at the heart of the mega camp on 14 April. Dubbed the 'hospital on the hill', the facility has the capacity to support 100 inpatients. This is in addition to MSF's four other inpatient health facilities providing 24-hour support: Kutupalong, Balukhali, Goyalmara Hospital and the Rubber Garden outbreak response centre.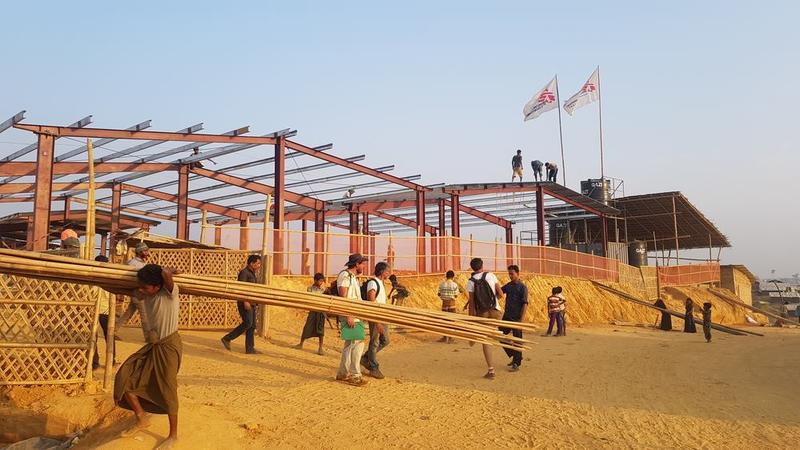 MAY

2018

MSF treated 377 survivors of sexual and gender-based violence between 25 August and 30 April, aged between nine and 50 years old. However, the real number of SGBV survivors is impossible to determine as this is likely only a fraction of all cases.

MSF staff care for survivors who are referred for treatment as a result of trauma, including sexual assault and rape. Local community outreach workers visit people living in the settlements, informing them about the free services on offer, including treatment for sexual violence. MSF provides comprehensive healthcare, including mental health counselling.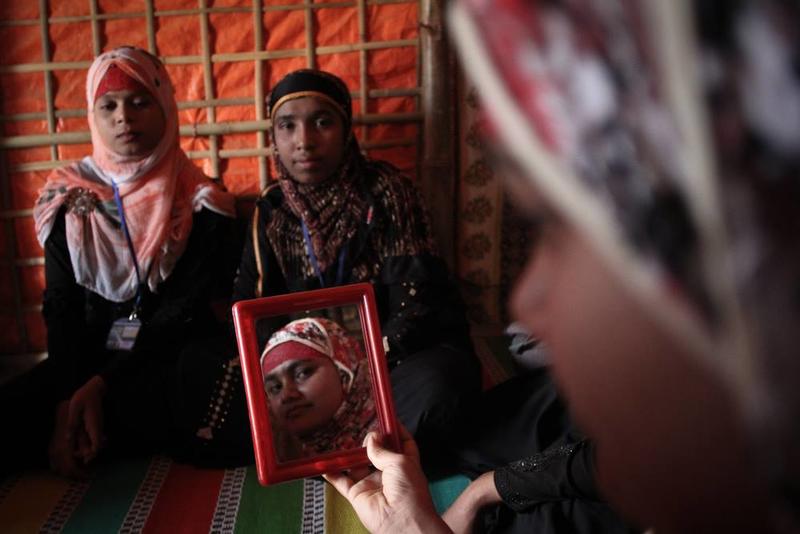 JUNE

2018

The rainy season begins and increases the risk of landslides and the spread of disease, along with impeding access to healthcare. There's a real risk that the flooding will infiltrate the latrines and increase the chance of waterborne disease.

Outside of the medical response, improving water and sanitation has been a major part of MSF's work to prevent the spread of disease. To date, MSF has desludged 438 full or overflowing latrines and has built over 1,050 latrines – serving around 50,000 people every day. Teams have drilled ten deep productive boreholes – up to 200 metres – to provide clean water to MSF health facilities and piped networks which reach between 5,000 and 30,000 people each. Staff have drilled 296 tube wells and maintained the hand pumps to provide clean water to refugees where the topography does not allow such network construction.
JULY

2018

MSF continues intensifying its activities focusing on mother-and-child healthcare. Only a minority of deliveries occur in a health facility, while home deliveries often happen in unsafe and unhygienic conditions.

Pictured Kate Edmonds, Australian midwife attends to Fatima and her newborn child in the Balukhali Hospital.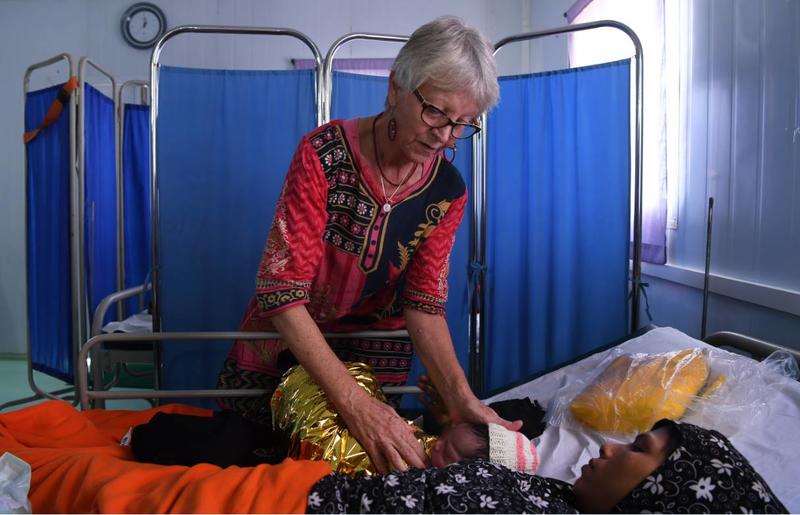 AUGUST

2018

August marks 12 months since the start of the crisis. More than 706,000 Rohingya refugees have fled into neighbouring Bangladesh, bringing the total number of Rohingya hosted in Cox's Bazar district to over 919,000. They remain without a safe place of resettlement. Over the past year, MSF has provided over 656,200 consultations, equivalent to more than two-thirds of Rohingya refugees, in 19 health facilities or mobile clinics.