Our activities in Pakistan are funded solely by donations from individuals
Stretching from the Himalayas to the Arabian Sea, the Muslim-majority state of Pakistan is one of the most populous countries in the world, with more than 169 million people living within its borders.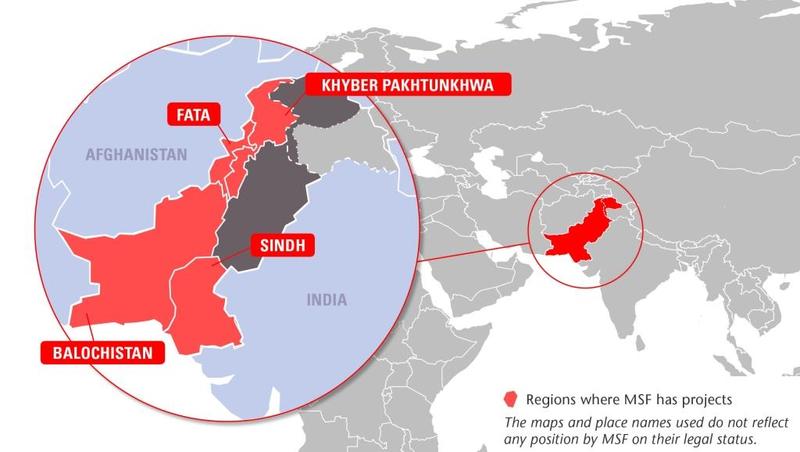 Home to what are thought to be some of the earliest human settlements, modern Pakistan was born out of the partition of the Indian sub-continent in 1947 and has faced both domestic political upheavals and regional confrontations.
Médecins Sans Frontières/Doctors Without Borders (MSF) first began working in Pakistan in 1986 and since then has assisted in numerous natural disasters and provided healthcare to victims of conflict.
Today, women and children in particular suffer from the lack of access to healthcare and there is an overwhelming need for neonatal care.
Our activities in Pakistan are funded solely by donations from individuals, with no institutional or government contributions.
[[Country-Facts]]
MSF's work in Pakistan: 2015
Access to good-quality healthcare, including treatment for communicable diseases and lifesaving obstetric and neonatal services, remains a significant challenge for many people in Pakistan.
People living in isolated communities in the mountains between Pakistan and Afghanistan and in areas affected by conflict, Afghan refugees and residents of urban slums are some of the vulnerable groups in desperate need of medical assistance.
Healthcare for women and children is a particular concern: women regularly die from preventable complications during pregnancy, neonatal care is inaccessible for many, and one in ten children die before their fifth birthday. MSF activities in Pakistan are funded solely by donations from individuals, with no institutional or government contributions.
[[nid:402]]
Mother and child health in Balochistan
Government-funded inpatient paediatric care in Balochistan's capital, Quetta, is insufficient to meet the population's needs and many people cannot afford private clinic fees. Some 1,300 patients were admitted to our 67-bed paediatric hospital in Quetta in 2015 and more than 1,900 severely malnourished children received treatment. Over 4,000 individual and group mental health consultations were also held.
More than 9,100 children were vaccinated against childhood diseases in MSF's mother and child health centre in Kuchlak, north of Quetta, in 2015.
In Kuchlak and Benazir Bhutto hospital in old Marriabad town, MSF also treated over 1,700 patients for cutaneous leishmaniasis, a disfiguring and debilitating parasitic disease transmitted by sandflies.
On the Afghan border, at district headquarters hospital Qila Abdullah in Chaman, MSF works with the health authorities, offering free healthcare to local residents, Afghan refugees and people who cross the border seeking medical assistance. Services focusing on women and children include reproductive, neonatal and paediatric healthcare.
Teams carried out 10,900 antenatal consultations and assisted 4,400 births in 2015.
There is also an emergency room for trauma cases, where staff attended to over 5,800 patients this year.
More than 1,500 severely malnourished children under the age of five were treated in the nutrition programme and 8,200 children received essential vaccinations.
More than 8,000 severely malnourished children received treatment in the Dera Murad Jamali district hospital, in eastern Balochistan, in 2015.
Federally Administered Tribal Areas (FATA)
At Nawagai civil hospital, 43,000 outpatient and 30,000 emergency consultations were conducted, and support was provided to the mother and child health department.
At Sadda Tehsil headquarters hospital in Kurram Agency, we provided inpatient care for children under 12 and carried out an average of 600 consultations per week. In 2015, there were 300 children admitted for measles and post-measles complications.
Emergency and maternal care in Khyber Pakhtunkhwa
More than 5,200 patients were admitted and 4,700 babies delivered at Peshawar women's hospital in 2015. The team also provided training on high-risk obstetrics and maternity care to staff working in the basic healthcare facilities within the hospital's referral network.
[[Article-CTA]]
In the district headquarters hospital in Timurgara, our staff provided treatment for complicated obstetric cases, including surgery, and 8,395 births were assisted in 2015.
In March, MSF set up a 'cardiac corner unit' to treat patients suffering from acute coronary syndrome, and 560 patients were admitted over the course of the year. In addition, 4,500 mental health consultations were carried out.
The team at the Hangu emergency surgical project carried out over 15,000 emergency room consultations, performed 800 surgical interventions and assisted 3,202 births before handing over activities to the health authorities in September.
Healthcare for Machar Colony
A clinic in Machar Colony slum, run jointly by MSF and SINA Health Education & Welfare Trust, provided over 102,000 consultations in Karachi in 2015.
The team also vaccinated 31,000 children against measles during a 15-day campaign in April, and began a treatment programme for people with hepatitis C that meant patients could access free diagnosis and high-quality treatment without having to travel long distances to a hospital.
Earthquake relief
An earthquake measuring 7.5 on the Richter scale struck northeast Afghanistan and northwest Pakistan on 26 October. MSF responded quickly to an influx of 250 patients at Timurgara district hospital and Khar hospital in Bajaur Agency, and also supported health ministry staff by providing aftercare to the more seriously injured patients.
More than 2,100 kits containing items such as soap, washing powder, buckets and cooking pots were distributed in Timurgara and the surrounding districts and to several villages in Chitral district.
Find out more in our 2015 International Activity Report.
358,300
outpatient consultations in 2015
27,700
births assisted in 2015
12,300
patients treated in feeding centres in 2015
2,600
surgical interventions in 2015
78m AED
expenditure in 2015