MSF began working in Arsal, on the Lebanese border with Syria, in 2012 and has been continuously providing free medical care for vulnerable communities of both Syrian refugees and local Lebanese residents ever since. Providing paediatric consultations, a chronic diseases care programme, sexual and reproductive health services (including normal deliveries), mental health consultations and health promotion activities.
Abdelhameed Al-Hujairi, 75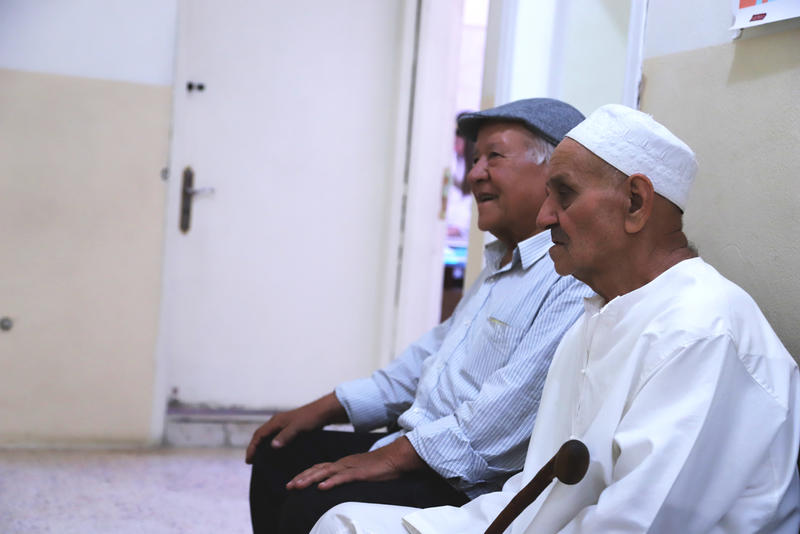 Abdelhameed Al-Hujairi, 75, is a Lebanese man from Arsal. He has six children. The entire family stayed in Arsal, even throughout the deteriorating security situation, because as he says, "Where else would we go?".
Abdelhameed has had diabetes for 20 years and has been visiting MSF's primary healthcare centre in Arsal, where he receives regular follow-up care and treatment, free of charge, since 2016.
Before he learned about the centre, he would buy medication only when he could afford the cost
As a young man, Abdelhameed immigrated to Libya and spent 25 years working in excavation and sanitation. He returned to Lebanon and continuing working, believing that he had saved enough money to allow for a good life, but his fortune depreciated due to the Lebanese civil war.
As job opportunities became scarce and Arsal faced tough security and economic circumstances his situation only grew worse.
Earlier this year, Abdelhameed needed emergency surgery but since specialized healthcare services are not available in Arsal, he had to undergo the procedure in Zahle and needed to pay $US 1,000 to cover the costs, even after the contribution of the social security fund. He scraped together the money, but what is left is not enough, and he couldn't ask anyone to lend him.
Abdelhameed overcame his medical emergency, but he still suffers with chronic diseases, so he visits MSF's clinic regularly. He adopted a healthy lifestyle to avoid further complications.
Khadija Zaarour, 70
Khadija Zaarour, 70, is a Lebanese woman from Arsal who currently lives in Saadnayel, a town in the Beka'a Valley.
"I came here because of my condition," says Khadija who has diabetes. Her daughter who lives in Arsal had told her about MSF's clinic and she came because she could not afford consultations or medication elsewhere.
Although she knows how important those regular visits are for her treatment, family emergencies have in the past meant that Khadija couldn't attend her follow-up consultations at the clinic .
When the nurse reminds Khadija of her next appointment, she smiles and says softly, "Inshallah" meaning "God willing" in Arabic.
Abdellatif, 56,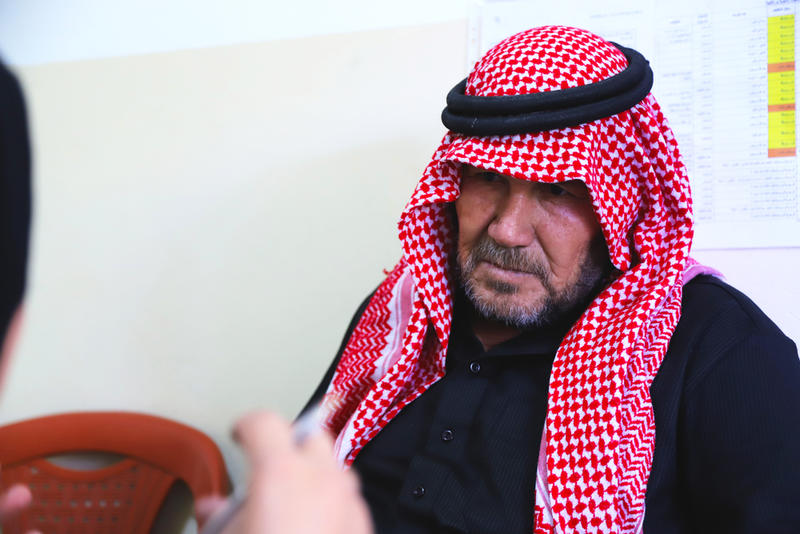 Abdellatif, 56, a from Al-Qusayr, fled his home in the Homs Governorate of Syria in 2013.He's been living the in a refugee camp in Arsal ever since and has been struggling with diabetes for 18 years. Since the war began, he's witnessed damage to his farmlands and the destruction of his house, his wife and two of his children have been injured by shelling and they were all forced to flee and leave behind everything he ever owned.
After seeking refuge in Lebanon, Abdellatif's life changed completely.
Back in Syria, he owned a big house and a number of farmlands where he used to grow fruit, vegetables, and grain. His harvest gave him a healthy diet which helped him avoid complications with his diabetes. Today, he lives in a tent. He has not found a job and can't feed his children or purchase his medications. Before, Abdellatif was known for his sense of pride and respected in the community but during the last of his days in Syria and throughout his time in Lebanon his physical and mental health has deteriorated.
Abdellatif is grateful for MSF's efforts to help Arsal's residents and refugees, because without its continuous presence in Arsal since 2012, he and hundreds of others would have had to figure out a way to get medication on their own. This would have been practically impossible given the security situation in Arsal during previous years.

Read the full project update on our international site