Two medics – doctor Jameel and nurse Sameer – get out of the Doctors Without Borders/Médecins Sans Frontières (MSF) car, on their way to yet another house during their home-visit day in the northern Jordanian governorate of Irbid. Going down a couple of steps, they push aside a large piece of cloth, blowing in the wind, which serves as the door to the house they are visiting.
A Syrian woman in her late thirties greets them both warmly and invites them in. The whole family is gathered, having tea and warming up as winter is now approaching. "You're right on time," says Batool. They have been expecting Jameel and Sameer today, and two of the children jump up to fetch additional cups for their guests.
On a mattress at the back of the room lies 77-year-old Khairiya. She smiles when she sees the two medics arrive. Khairiya had three children who died in Syria, and beneath that shy smile, you can sense her grief. She has been suffering from diabetes for 15 years, and the disease has taken its toll on her body: her vision has become blurry, voices sound distant in her ears and her legs can no longer hold her as they used to.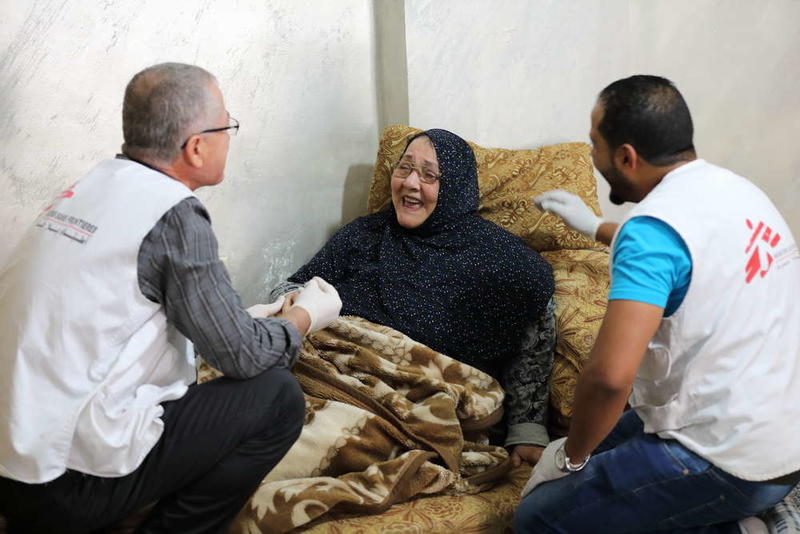 MSF has been running a non-communicable diseases (NCDs) project in Irbid governorate for almost three years, offering medical care to those suffering from chronic diseases. And since August 2015, MSF has been running a home-visit programme for those whose physical constraints prevent them from attending the clinics, or who cannot afford the ride.
While Sameer takes Khairiya's blood pressure, Dr Jameel puts on his gloves and examines Khairiya's legs and checks her reflexes. Meanwhile, Khairiya's stepdaughter distributes tea with mint to the visitors.
"It's hard to find good medical care back home and, with the war in Syria and my aunt's delicate condition, we had to leave the country for Jordan,"
Batool refers to her mother-in-law as her aunt to express their closeness – Batool has been taking care of Khairiya ever since her condition deteriorated.
"We left Syria in 2012,"
"Our house was bombed and the other houses nearby were destroyed, and our neighbours evacuated their homes, fleeing the area while they still could."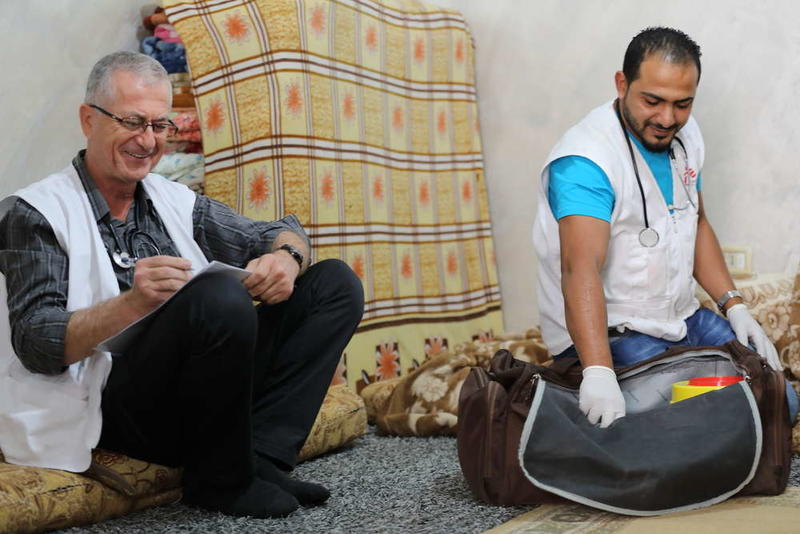 Batool warns that the tea is cooling, as Sameer shows Khairiya's next-door neighbour – who is a regular visitor – how to use the "pen" to do Khairiya's diabetes test in case one day Batool is out of the house.
With a smile, Batool continues her story:
"I registered Khairiya's name as soon as I found the MSF clinic, and after considering her medical condition, the doctors started visiting her at home. They see her every month and schedule her visit regularly."
She goes to the far end of the room and comes back with her mobile phone, then searches through her messages to find one particular message.
"MSF sends us a text message informing us of her next appointment. This is a really good reminder for all of us, and I have all these messages saved,"
Batool looks round at each of her family's faces in turn.
"Do you know that four of us suffer from diabetes?"
"My aunt, her husband, also my husband and our nine-year old son. I was always thinking about how to find continuous and proper medical care for them all. Their medication shouldn't be interrupted – that was all I could think about."
When the family first arrived in Jordan, they stayed with some former neighbours. Finally they managed to get their own place, but they could not afford regular healthcare, so after a year they left the city and moved to Irbid governorate, hoping things would be easier there.
"I heard about MSF's clinic through some fellow Syrians,"
"As soon as I visited the clinic, I told them about the medical condition of each person in my family. Every month we have scheduled appointments at the clinic, and every month they come to examine my aunt at home."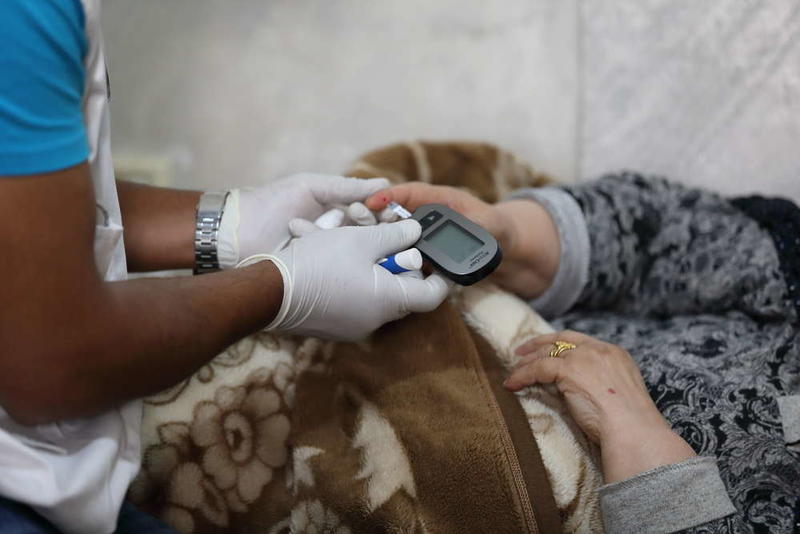 Before joining MSF's programme, Khairiya, her husband and her grandson had been without medicines for a long period. On joining MSF's programme, the medical team prioritised their cases, immediately putting them on medication and giving them regular check-ups.
Khairiya starts yelling, interrupting all the conversations in the room, then demands help to sit upright. Sameer and Jameel come to Khairiya's rescue and the three of them burst into laughter. Batool looks at her aunt and ponders the family's future.
"Currently, there is no place for us to go back to,"
"We are safer here, more at comfort and peace here. I don't think we would be able to secure medicines for the family if we were to go back now. Whenever I think of the future, I think about my family: if we were to return to Syria, would we be able to continue receiving treatment there? What if hospitals and medical centres can no longer provide diabetes treatment?"
Sameer and Jameel pack their bags and thank everyone for their hospitality. They go outside and put on their shoes, ready to leave. But Batool's questions remain in their heads – questions to which no one knows the answer.
**Names have been changed.
---
In December 2014, MSF opened a non-communicable diseases (NCDs) project in Irbid governorate with two clinics, providing medical treatment for Syrian refugees and vulnerable Jordanians with a range of chronic diseases, including diabetes, hypertension, asthma, cardiovascular diseases and chronic obstructive pulmonary disease. In August 2015, MSF launched its home visit programme to reach patients who could not visit the clinics because of physical disability or financial constraints. The NCD project also provides health education and psychosocial support to help patients lead healthy lives.
At present, MSF has 3,374 patients enrolled in its NCDs project in Irbid; 2,113 (62.6%) of them are being treated for both types of diabetes. MSF teams have provided 58,181 consultations, including home visits, since the start of the NCDs project in December 2014.